Rare baby zebras make appearance at Edinburgh Zoo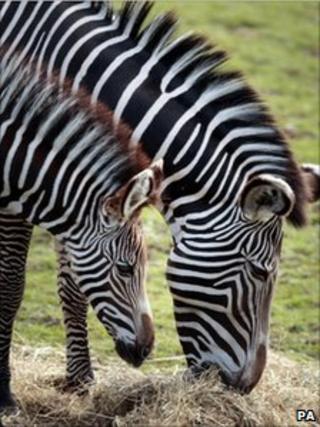 Two rare zebras born at Edinburgh Zoo on the same night nearly three months ago have made their public debut.
They are Grevy's zebras, distinguished from other types of zebra by their narrow stripes and large ears.
The species is endangered in the wild, with a population of between 2,000 and 2,500 animals - less than 20% of what it was 30 years ago.
The zoo also announced the births of two Nyala antelopes, in March and February.
All the recent arrivals will live in the Plains of Africa area of the Zoo, sharing the enclosure that overlooks Scotland's capital.
A spokesman for the zoo said: "The babies have been making themselves at home under the watchful eyes of their mums."
Grevy's zebras are now largely confined to Kenya and Ethiopia, but have lost some habitat to human settlements and agriculture.