From space: Scotland's run ins with wind, fire and ice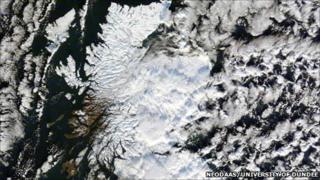 Images taken from space have captured the severe winter weather, wild fires and now storms and volcanic ash that have affected Scotland over a period of six months.
The images have been received by the University of Dundee satellite receiving station.
During December, almost the entire country was covered by snow after blizzards and freezing temperatures hit.
The bad weather was blamed for impacting on consumer spending, house sales and damaging roads.
In January this year, Pat Watters, president of local authority body Cosla, told BBC's Good Morning Scotland programme the cost of repairing potholes could top £100m.
The severe weather also led to a sharp fall in the number of houses being sold in Scotland, according to a report from property surveyors.
The Royal Institution of Chartered Surveyors in Scotland (RICS) said the extreme conditions in the run-up to Christmas led to a difficult market.
A Bank of Scotland report said businesses recorded a sharp drop in new orders and output because of December's conditions.
The bad weather caused consumer spending to fall - and that in turn hit the service sector in particular, the bank said.
Spring has been marked by a period of dry and windy weather, which provided ideal conditions for wild fires.
Highlands and Islands Fire and Rescue Service (HIFRS) tackled 70 significant blazes between 29 April and 5 May.
It said 22,486 acres (9,100 hectares) of vegetation and 7,907 acres (3,200 hectares) of forestry were destroyed and estimated it could cost landowners £26m to reinstate.
HIFRS calculated the cost of the damage based on research of wild fires that affected Yorkshire in 2003.
The service also looked at the cost to it of fighting fires in difficult terrain over the six days.
It said the cost of deploying vehicles and crews ran to more than £125,000.
This week, winds of up to 100mph have disrupted travel by road, rail and ferry.
Cars have been damaged by falling trees and thousands of homes and business have been left without power.
At the same time, volcanic ash blown from an eruption on Iceland has also grounded many flights to and from Scottish airports.
The grounding of flights in 2010 as a precaution because of volcanic ash cost an airports operator £45,000 every day services were disrupted.
The figure were carried in Highlands and Islands Airports Limited's (HIAL) report and accounts for 2009/10.