Scottish airports hope to resume flights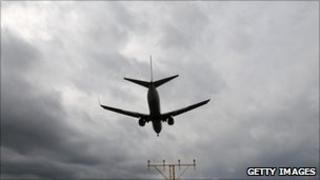 Scotland's airports are hoping to resume normal services on Wednesday following disruption caused by ash from an Icelandic volcano.
Dozens of planes were grounded at a number of airports on Tuesday.
This followed a Civil Aviation Authority announcement which said there were high concentrations of ash in Scotland's air space.
Glasgow and Edinburgh airports said they expected to resume flights, but they have warned of delays.
Passengers are being advised to check with their airlines that the services they have booked onto will take off.
The ash coming from the Grimsvotn volcano eruption has resulted in about 70 passengers spending the night at Edinburgh Airport.
The Red Cross confirmed that a team of volunteers was helping stranded passengers.
They were on hand to give out blankets, hygiene kits and bottled water.
In a message to travellers, Glasgow Airport's website said: "The latest forecast shows the high concentration of volcanic ash will disperse during the early hours of Wednesday morning.
"Flights to and from Glasgow Airport are expected to resume tomorrow morning.
"We would advise all passengers to check with their airlines for flight information."
Edinburgh Airport said it was planning for a "fuller program of services".
Its website added: "We advise passengers to check with their airlines before travelling to the airport as a number of flights may be disrupted as services return to normal.
"We'll continue to communicate any developments through our website."
Prestwick Airport cancelled all flights on Tuesday and said it would continue to monitor the situation closely "in conjunction with the Met Office, National Air Traffic Services and the Civil Aviation Authority".
Aberdeen Airport resumed flights on Tuesday afternoon but it warned that knock-on delays could be expected.
Highlands and Islands Airports said there could be disruption to flights on Wednesday and it advised passengers to check with their airlines.
The Foreign Office is advising passengers to remain in regular contact with their travel agent or airline for the latest news on the status of flights and bookings.