Glasgow city councillor pay scheme to end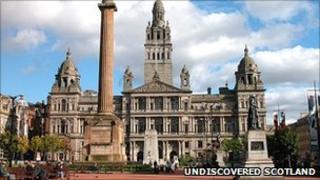 Councillors at Scotland's biggest local authority are being banned from getting extra pay for sitting on the boards of council-owned organisations.
Finance Secretary John Swinney raised concern that 40 Glasgow City Council members were sharing an extra £260,000 for their work with arms-length bodies.
He now plans to end the arrangement from 1 July by bringing new regulations before parliament.
Mr Swinney said some members were effectively being paid twice.
The Scottish government published details of the legislative change it intends to put before MSPs.
In an initial statement, a Glasgow City Council spokesman said: "We haven't seen the detail of this proposal."
The spokesman later clarified that the local authority had yet to look at the detail of the Scottish government's plan.
Several Scottish councils have set up arms-length external organisations to provide services normally delivered by the local authority itself, like leisure facilities.
But a recent review by the Scottish Local Authorities Remuneration Committee (SLARC) found only Labour-controlled Glasgow City Council had a policy on making extra payments to elected members who sit on their boards.
Mr Swinney said: "It can't be right that a limited number of councillors can receive additional payments to help deliver broadly the same services as delivered by their own councils - in effect, some councillors are being paid twice.
"The Scottish Local Authorities Remuneration Committee report highlighted that only Glasgow City Council had a policy to pay additional monies and confirmed that 40 councillors were sharing £260,000 in additional payments for serving with boards of arms-length bodies.
"I agree with SLARC that this completely undermines the principles of the existing councillor remuneration scheme, and that's why I have today laid regulations to stop the practice."
The regulations brought forward by Mr Swinney, which require parliamentary approval, mean any councillors in Scotland sitting on arms-length bodies are limited to claiming expenses.
The finance secretary had previously criticised Glasgow City Council for not ending the payments voluntarily.