Brand new man at Celtic Football Club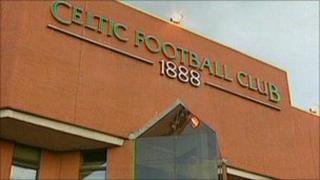 The contrast won't be lost across the city - suspensions and suspense as Craig Whyte wields the axe at Ibrox, while there's an "orderly and smooth transition" to a new chairman at Parkhead.
Celtic has weathered the economic downturn in rather happier circumstances than their Rangers rivals.
And their choice of new chairman, to replace John Reid - or the Rt Hon and Noble Baron Reid of Cardowan, to give him his Sunday name - hints at the potential for a change of emphasis at Parkhead.
Expect a bit less confrontation with referees and the sport's administrators - what Reid's resignation statement calls "hopefully... an impetus to the reform of our wider football institutions" - and perhaps you'll see a subtler approach from the new man.
Ian Bankier is a corporate lawyer and deal-maker to trade - 20 years ago voted Scotland's best - though he soon moved on from there to the whisky business. That was first as a distillery boss and then into retail, as executive chairman of Glenkeir Whiskies.
He owns a large chunk of the company, which includes the Whisky Shop chain, retailing high-end single malts in premium locations. Top whack: £1,300 for a 1960 blended Scotch.
He's had a sort of association with Rangers.
The company he used to run, Burn Stewart, was burned when it took a £1m stake in the Ibrox club in a deal to help to promote Highland Leader whisky.
Bankier followed up by trying to balance that with a sponsorship deal with both Celtic and Hearts. He says he's a long-standing Celtic fan and he's fresh to the directors' box at Parkhead, where he's already installed.
The Bankier story is big in brand management, and that's where the clue to his role as new chairman could be.
Celtic may find itself tussling each year with Rangers for the Scottish silverware, but those who know both football and brands reckon that it's Celtic that has a substantial edge over Rangers in its name recognition.
It appeals not only to a part of the Scottish diaspora, but obviously also to the Irish one.
"The Celtics" are already an established US brand in basketball - the fourth most valuable in the sport. According to Forbes.com, the Boston team's brand management alone was last year worth $58m (£35m).
Tapping into that international potential is not news to Celtic. But the appointment of a deal-maker and a brand manager as chairman points the way to much more in future.
What of John Reid's future, after next autumn's annual general meeting when he steps down?
He'll be 64 - surely not too old for a political comeback, and at a time when Scottish Labour could do with a bit of help.