Ash calls for child cigarette sales crackdown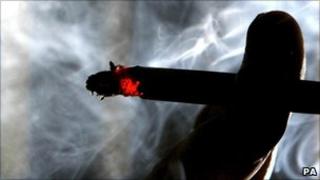 Anti-smoking charity Ash Scotland has claimed public backing for a crackdown on under-age tobacco sales.
It has published an opinion poll indicating that 87% of people in Scotland believe retailers should lose the right to sell cigarettes if they have repeatedly served under-18s.
The measure was part of Scottish legislation passed in 2010.
The same poll found that 67% of respondents backed a registration scheme for shops selling tobacco.
The poll, conducted by YouGov, asked 1,021 adults for their opinions on suspending the right to sell tobacco for businesses found to have sold or supplied tobacco to under-18s more than once.
It found that 87% supported the policy, with only 4% opposing it.
A clear majority of those taking part also backed a registration scheme to help local authorities enforce the law.
Lethal and addictive
Sheila Duffy, the chief executive of Ash Scotland, said: "Retailers who sell tobacco to children can now be subject to a fixed penalty fine and, if they consistently sell cigarettes to minors, can face a ban.
"Evidence shows the younger you start smoking, the more harm is done to your health and the harder it is to quit.
"It therefore makes sense that a lethal and addictive product like tobacco that is only available to adults should be subject to regulation."
Ash cited academic research indicating that 15,000 young people start smoking in Scotland each year.
It said the number of deaths attributable to smoking each year is in excess of 13,000.
Two other parts of the legislation, which banned cigarette vending machines and restricted the display of tobacco products in shops, have been subject to delay because of legal challenges by tobacco companies.