Professionals linked to crime gangs targeted by SCDEA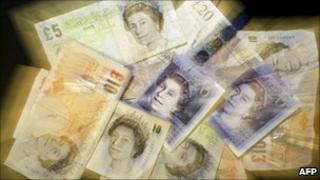 Twelve people, including lawyers and accountants, who help Scotland's most dangerous gangs are under investigation by the body fighting serious crime.
The Scottish Crime and Drug Enforcement Agency has identified individuals it calls "specialist criminals", who have expert financial and legal knowledge.
A total of 291 professionals have been identified with links to gangsters.
New figures show Scotland now has fewer serious organised crime gangs, down from 376 to 370.
Agency director, Deputy Chief Constable Gordon Meldrum, said people with financial and legal skills were "crucial" to criminal organisations.
He said: "Although the majority of specialists are linked to just one gang, we have focused in on the activities of 12 specialists who are the most connected with the top 20% of the most harmful serious organised crime groups.
"All of these individuals have been the subject of investigation and some form of significant action is now under way to disrupt their activities, including reports to the Crown and referrals to professional and regulatory bodies including the Institute of Chartered Accountants in Scotland and the Law Society of Scotland."
Police insisted the reduction in the number of serious organised crime gangs operating out of Scotland is down to improvements in data collection and analysis rather than any "significant shift" in the scale of the problem.
Out of all the gangs 91% are involved in drugs, 98% in money laundering and 21% in immigration crime, such as trafficking.
An estimated 93% of crime gangs use "corruption tactics" against police, public officials and company employees.
Mr Meldrum said: "The nature of serious organised crime is that it operates in the shadows. These criminals operate in a constantly shifting landscape and we will probably never have a definitive picture.
"We are arresting more generals rather than foot solders within these crime groups: one in three today compared with one in five just a few years ago. We have shifted our focus onto disrupting serious organised crime in ways that are really hurting their profitability.
He said the scale of serious organised crime in Scotland had not change but the agency's understanding of the way they work had.
He added: "That is very unsettling for serious organised criminals, and that's why many of them are desperate to use corruption tactics to infiltrate and undermine our work."