Pupils compete in Holyrood-held Euroquiz finals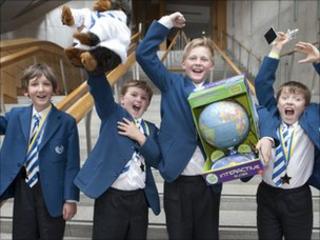 More than 100 children from 30 Scottish schools have taken part in the country-wide Euroquiz 2011 finals at Holyrood.
The Primary 6 pupils answered questions on a whole range of European-related subjects, including politics, geography, music and art.
The winning team was Edinburgh Academy which beat Cairneyhill Primary School, Fife, by one point in the final round.
The final of the Scottish European Educational Trust (SEET) run event took place inside the Holyrood chamber.
Preliminary heats involving 1,500 pupils from 370 schools took place earlier this year.
Those rounds resulted in each of Scotland's local authorities being represented in the final by one school team, consisting of four pupils aged 10 or 11.
MSP Quizmaster
The trust has been running the Standard Life-sponsored quiz since 1993 with the aim of "promoting and encourage education about Europe to students throughout Scotland".
It works closely with with the European Parliament, the European Commission, the Scottish government and the Scottish Parliament.
Deputy Presiding Officer Elaine Smith MSP, who was quizmaster at the four-rounds final, said she was delighted to take part and impressed with the knowledge of all the participants.
Gerald Wilson, chairman of SEET, said: "The Euroquiz ticks so many educational and other boxes, not least the opportunity for primary school children to experience the excitement of competing in the chamber of the Scottish Parliament."
The winners picked up a trophy, medals and a globe for their school.
Jamie Miller, one of the winning pupils from the Edinburgh Academy team, said: "We've had a fantastic day and we're ecstatic to win. The four of us gave up the first day of our school trip to Holland to compete today so it's all been worthwhile.
"We're looking forward to joining our friends to celebrate."
A congratulatory message from the President of the European Commission, Jose Manuel Barroso, was read to the pupils - who sat in the seats used by MSPs - before the quiz began.
It read: "The quiz represents a great opportunity each year for children in Scotland to learn more about European history and culture. I wish the greatest success to all the finalists and hope that taking part sparks lifelong interest among them in European matters."