Black Hill transmitter to start switching off analogue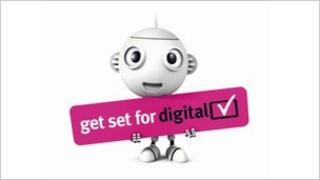 Almost half of Scotland's population will start to lose the analogue signal on their TVs as the country moves closer to becoming fully digital.
On Wednesday, the Black Hill transmitter, covering 2.4 million people in central Scotland, is due to stop showing BBC Two.
The public is being advised to retune Freeview equipment so there will be no loss of services.
Scotland is scheduled to become fully digital on 22 June.
Digital UK, the body leading switchover, continues to provide support through local advice points, as well as its website and advice line.
Switchover roadshows will be running in Glasgow, Edinburgh and Stirling on Wednesday anddetails can be found on the Digital UK website.
The Black Hill transmitter and its 42 relays - which are known as a transmitter group - switch to digital in two stages.
On 8 June, BBC Two will go digital and some new digital channels - including BBC Alba - will become available.
On 22 June, all the remaining analogue channels will switch to digital and the remaining digital channels will become available.
That day will mark the completion of Scotland switching to digital television.
Viewers with Sky TV, Freesat from Sky or Freesat on all of TV sets will not be affected by the switchover.
Viewers with Freeview, BT Vision or Top Up TV will have to retune equipment.