Five universities to study Scots drink and drug culture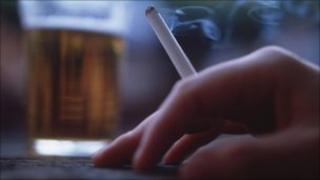 Five universities are to work together to study Scotland's drink and drug culture to help inform health policy.
Researchers from Edinburgh, Aberdeen, Dundee, St Andrews, and Glasgow will study issues such as smoking rates and the acceptability of heavy drinking.
The new Scottish School of Public Health Research has been given £445,000 from the Scottish Funding Council.
The public health minister said the work would collate important data and expertise for the first time.
The universities will work with healthcare providers, including NHS boards, to help develop the group's remit.
It is hoped the results of the research will help improve patient care and practice, plan public health campaigns , and reduce healthcare costs in the long-term.
Public Health Minister Michael Matheson said: "By finding out more information about the causes of smoking and drinking, we can intervene early to prevent behaviours arising that have significant cost to individuals, families and wider society, both in terms of health and economic impacts."
SFC chief executive Mark Batho said working together would provide the universities with access to much more information and expertise.
"This will improve the way public health issues are researched and fill gaps in our understanding of major health issues that affect the lives of many thousands of people across Scotland," he said.
It is also hoped that joint working will increase national and international research competitiveness, allowing the group to attract additional funding.