Scottish man diagnosed with E. Coli after Germany visit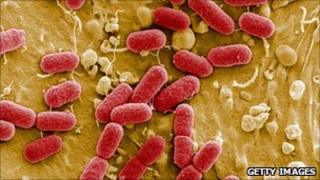 A Scot has been diagnosed with the strain of E. coli which has killed 29 people in Germany.
The man had mild symptoms and has now recovered. He had recently travelled to the affected area of Germany.
Health officials in Scotland said there was no risk of any onward spread and the man, who does not want to be identified, is now "well."
New data strongly suggests that locally produced bean sprouts were the source of the deadly outbreak.
Some 3,000 people have been taken ill with the German E. coli, which involves a previously unknown strain of the bacterium.