Scots siblings killed in Florida plane crash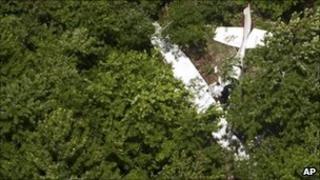 An aviation student from Scotland has been killed alongside her brother when the light aircraft they were in came down in central Florida.
Carly Beattie, 21, who was studying for an air transport degree, was flying the Cessna 152 that crashed on Thursday in a swampy area near Blue Cypress Lake.
Her brother, Daniel Beattie, 24, was a passenger.
Authorities in Florida said the pair, from the Edinburgh area, were visiting Merritt Island with their parents.
They are understoood to be from Penicuik.
Reports from the US said the plane had nosedived and hit a tree.
In a statement, Sheriff Deryl Loar, from Indian River Country in Florida, said: "The siblings and their parents were visiting from Scotland and staying in Merritt Island.
"Due to outstanding cell phone tower analysis by BCSO Agent Hart, Brevard County Sheriff's Office was able to pinpoint the cell phone tower where the victim's cell phone was receiving a signal.
"It was determined that the cell phone was receiving a signal in a wooded area near Yeehaw Junction and Blue Cypress Lake in Indian River County.
"The airplane was located where it had crashed in a wooded area within two miles from the cell phone tower. Both pilot and passenger were found deceased."
Ms Beattie, was in the US as part of her degree course at Buckinghamshire New University, in High Wycombe in Buckinghamshire, where she was studying air transport with commercial pilot training.
Vice chancellor Professor Ruth Farwell said: "Our thoughts are with Carly's family and friends at this difficult time and we are actively supporting fellow students on the air transport with commercial pilot training course."
A spokeswoman for the Foreign and Commonwealth Office said: "We can confirm the deaths of two British nationals in Florida following a plane crash on June 9.
"Our consulate in Orlando are in touch with next of kin and are offering consular support at this extremely difficult time."