Farmers union welcomes sheep tagging support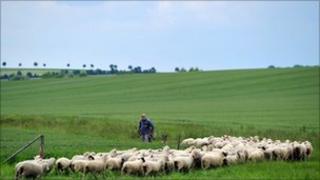 The head of the National Farmers Union Scotland (NFUS) has welcomed the political support given to industry concerns over electronic sheep tagging.
Scottish Agriculture Minister Richard Lochhead met EU commissioner John Dalli to discuss the situation
NFUS president Nigel Miller said it was "reassuring and encouraging" the issue was being debated at a high level.
He added that he hoped a "pragmatic solution" could be found in further talks in the weeks ahead.
The electronic identification labels are now compulsory but there are concerns over new penalties if farmers fail to achieve 100% accuracy.
Mr Lochhead has warned that is "unjust and unfair" and also "impractical and unworkable".
Despite vociferous opposition, by next year every sheep in Scotland will have to have an electronic ear tag.
Many animals are already fitted with the identification.
Critics still insist they are more suitable for smaller continental farms - in more temperate climates.
They have also said they are simply not tough enough to withstand the remote and often rough terrain of Scottish hill farms.
The EU has already conceded that scanners can be held at markets and abattoirs - rather than on every single farm - which according to the Scottish government reduces the cost by about 50%.
However, the European Commission now proposes tough financial penalties for any farmer who is not 100% accurate.