Ups and downs in air travel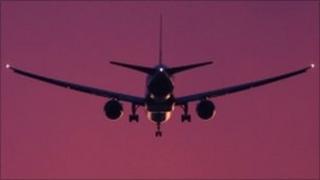 The latest BAA figures show last month lifted Heathrow to 68m travellers over the previous year - the highest 12-month figure ever.
While Glasgow saw an increase last month of 7% in passengers, it struggled into positive territory for the 12-month period.
Much healthier figures were registered at BAA's other two Scottish airports, Edinburgh and Aberdeen.
The capital has seen 14% growth in the year to May, with its busiest ever spring, while Aberdeen has risen 12% in the 12 months.
But the shape of business at Prestwick airport, owned by Infratil, a utility investor in New Zealand, is much more concerning.
It relies almost entirely on Ryanair traffic, which has been putting its emphasis instead into running Scottish services in and out of Edinburgh. The capital has more pulling power for inbound traffic.
Air travel
Prestwick works better for outbound Scots, mainly heading for the sun, so its traffic has become increasingly seasonal.
It's just announced cuts to its routes next winter.
Three fewer destinations from Prestwick mean only 12 remain, served by two planes. But with more turnarounds, or rotations as the industry calls them, they hope to hold up passenger numbers.
Last winter, passenger numbers at the Ayrshire airport were down 40% because of Ryanair's decisions.
More widely, expectations for European air travel look poor.
Worldwide industry body IATA, meeting in Singapore last week, said the global industry can expect to make profits of £2.5bn next year.
That seems quite a lot, until you consider it's on revenues of nearly £370bn - a margin of only 0.7%.
The industry has been helped by an astonishing 67% improvement in labour productivity over the past decade.
But it's now being affected by rising fuel prices, Japan's post-tsunami woes and the Arab Spring.
In Europe, the troubled economy means the industry expects profits to fall to $500m, down nearly three-quarters on the previous bad year.
That's largely explained by Europe's sluggish growth and austerity measures.
And part of the deficit-cutting involves higher air tax. Britain was singled out by IATA for leading the way with its tax regime - taking $4.5bn off passengers, the world's largest tax take.
Ireland, by contrast, is backing down on its travel taxation. I'm told one result is that trans-Atlantic passengers can save a lot of money by travelling via Dublin, to avoid the UK's long-haul tax.
Airport security
At its conference, IATA was looking ahead to the next 40 years, where it foresees big changes, including more biofuels and more co-ordination of air traffic control.
It's also unveiled the airport security of the future, to bring up to date the 40-year old concept we currently face at airports. This, it's pointed out, was to detect hijackers with guns.
The demands on the check-in have had lots grafted on, for liquid explosives and plastic explosives, and the industry finds that's become one of the biggest turn-offs for travellers.
Nearly £5bn per year is spent on aviation security, "and all our passengers see is hassle", says IATA's general secretary Giovanni Bisagnani.
"Passengers should be able to get from curb to boarding gate with dignity. That means without stopping, stripping or unpacking, and certainly not groping."
One solution is to design a security system that scans travellers three times for different objects, without having to unpack.
A much more controversial answer being backed by IATA is profiling passengers according to the risk they're perceived to pose, starting with much more information being held by the airlines and in passport biometrics.
So depending on whether you're deemed to be "known traveller", "normal" or "enhanced security", you may find a very different experience at check-in and security.
The idea is to scale down the effort to find bad objects, and to focus instead on finding "bad people".
It's not something you want written on your passport.