Reversing Dr Beeching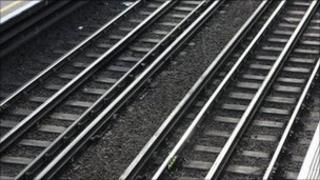 The Open golf championship at St Andrews brought an estimated £40m of added value to the Fife economy last year, and a further £60m to Scotland.
So, what does it have in common with the freight transport of 28 million cases of whisky, a few miles further south in Leven?
In both towns, campaigners are making the case for big new investments in railway. While it would be hard to rebuild the loop round Fife's East Neuk villages, these two spurs from the current rail network stations are seen as the natural next steps in the renaissance of rail in Scotland.
With Edinburgh's tram plans at risk of being derailed, and at enormous cost, this may seem an odd time to be trumpeting the value of putting investment into laying new track.
But I've been taking a look at the rebirth of heavy rail in Britain over recent years for a programme on BBC Radio 4.
"Reversing Dr Beeching" is about the moves taken in Strathclyde to re-open new lines and link up communities around Glasgow as its population dispersed.
Bringing the story up to the arrival of the Scottish Parliament in 1999, the programme looks at the impact of building the Larkhall-Milngavie line across Glasgow, the Stirling-Alloa-Kincardine line and the Airdrie-Bathgate link, creating a new route between Edinburgh and Glasgow.
People traffic
With the exception of the very early days in the 1980s, when heavy industrial closures meant a sudden drop in economic activity, new lines have had one thing in common - they always surpass expectations of passenger traffic.
The Stirling-Alloa-Kincardine line has seen traffic at 250% of what planners expected. A new station at Laurencekirk, south of Aberdeen, has hit double the expected number of passengers.
So, could that improve the cost-benefit analysis for the idea of linking Leuchars with St Andrews, five miles away?
A major steel company is involved with that project, trying to find out if there are cheaper ways to build railways than Britain has seen in recent decades.
Likewise, anyone familiar with east Fife's roads will know that the traffic in and out of Diageo's colossal bottling plant in Leven makes little sense in modern logistics, when the company is trying to slash its carbon output.
That is the plant that quenches a very large share of Britain's thirst for spirits - not only whisky, but vodka, gin and rum too. It's currently producing 28 million cases of spirits, most of that heading for export from Grangemouth or to Diageo's UK distribution centre via a narrow road bottleneck.
With the shift in bottling capacity from Kilmarnock to a new bottling plant in the Fife town, that is on the way up, to more than 35 million cases.
So, in straightened times for government capital budgets, will Diageo contribute to the costs of a new line to Leven? It's not saying yes, but it's not saying no either.
English neglect
Such calculations and contributions by private business could become a major part of future rail developments, if all the lessons of the rail renaissance are to be put into effect elsewhere.
And by elsewhere, the most striking part of this story is how active Scotland has been in building its rail network when there has been no such activity in England.
Getting people in, out and around London has been the priority south of the Border, with little to no development across the rest of England. There are, only now, a few improvements to services being implemented between northern English cities.
But attention is already shifting away from reversing some of the radical surgery Richard Beeching and his successors performed throughout Britain in the 1960s. The next generation looks more likely to focus on high-speed rail.
You can hear more about it here for the next week, on the BBC's iPlayer.