Nothing to bleat about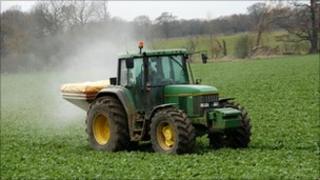 I'd forgotten how much fun, how buzzing and how wide-ranging the Royal Highland Show can be. As a young lad, heading out from the city, this was a great day out to clamber over eye-poppingly big tractors.
They've become bigger, and so have I.
So on returning, to present Business Scotland from the Ingliston showground this week, I can merely look on in awe at the scale of the farm machinery, while the launch of a new "shallow disc slurry injector" doesn't cut it for me the way it might once have done.
I'm more impressed these days by the magnificent specimens in the livestock pens; nearly 1,100 cattle, 1,700 sheep across 24 breed classes, and nearly 1,600 horses.
The most striking change from my last visit - quite a few years ago - is the prominent presence of the big multiples.
Tesco, Asda, Marks & Spencer and McDonalds want to showcase their commitment to the producers of their food, even though it's far from being the happiest of relationships.
This year, however, rising food prices have put a new spring in farmers' step.
Pork belly up
Lloyds Banking Group (LBG) says optimism and profitability are at their highest in 15 years. Farm income has rarely been so buoyant, though it's a mixed picture, because the volatility of prices is creating winners and losers.
According to Royal Bank of Scotland economists, the past year has seen input costs, including fuel, feed and labour, going up 18% on average. That's a far faster pace than the average increase over the past decade, when input and output prices rose at roughly the same total - around 60%.
The higher cost base leaves the sector more vulnerable to sudden price shocks, with oil a key one to watch, and with food increasingly - and very controversially - a feature of the roller-coaster of gambles on the world markets in commodity futures.
A medium-term threat is the reform of the Common Agriculture Policy, scheduled for 2013. The National Farmers Union of Scotland warned today of a horrible outcome for its members if the current direction of travel in European negotiations requires a constrained budget to be spread much more widely.
Looking at the state of Scottish agriculture emerging from the century's first decade, the big changes down on the farm have been in livestock numbers.
LBG says the dairy herd is down 11% between 2000 and 2010. Beef cattle are down 7% - the fall perhaps relatively constrained by the dismal start to the decade, with BSE and a block on exports.
But the big declines have been in the ewe flock, down by 30% in the decade, and the breeding pig herd down by 29%.
Pig farmers say they're now the ones suffering the toughest time, as input prices rise steeply but pork prices don't.
And all types of farmers have also been exiting the business - their numbers down by 19%, and their regular employees down by 17%.
Shear profit
That's pushed up agricultural productivity, but the rewards have only fed through to a 5% increase in real terms earnings and subsidies during that period.
One knock-on effect of fewer farms is in reducing the market for machinery. The equipment sales force at Ingliston sounded gloomy about their prospects, particularly as England's got drought problems and big investments are being put on hold.
And as Ken Rundle, of the Scottish Agricultural College, explained to me for this weekend's Business Scotland, efficiency is being improved by machinery and labour rings.
While some farmers form co-operatives to sell their produce, they are now also joining forces to buy and share machinery. Applied to employees, the ring system means more regular and consistent work, even if there are fewer jobs.
You can hear more from the Royal Highland Show this Sunday at 1005 BST on BBC Radio Scotland.
And you'll hear about the impact of world wool prices doubling in the past year, reaching their highest level for 15 years. That's explained by rising demand from emerging markets, while supply remains stable.
: Update :
Due to what might politely be described as a technical glitch, the Business Scotland programme due to go out on Radio Scotland this morning didn't quite make it. A three-week old programme did.
Apologies for that.
If you want to hear the programme from the Royal Highland Show, looking at the rural economy and the business of agriculture, you can hear it narrowcast by free download.