Drug smugglers devise new techniques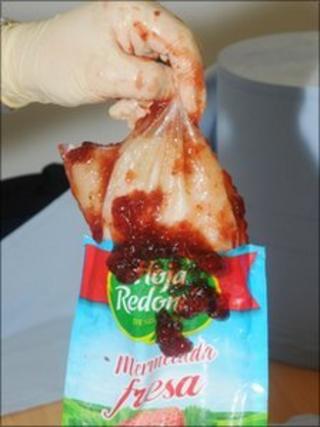 Sophisticated new techniques have been developed to smuggle drugs, according to crime expert Kenny Simpson.
The Scottish Crime and Drug Enforcement Agency (SCDEA) manager said cocaine had been inserted into wood, impregnated into clothing, and hidden in jam.
Some drug mules had also swallowed liquid cocaine in bags, which can be mistaken for the intestine under x-ray.
He said criminals had moved away from bulk shipments, where drugs were hidden alongside food and other goods.
In his first interview on drug concealment, Mr Simpson said: "They move with the times. We've seen everything. We've seen all sorts.
"There has been an increase in couriers who internally conceal the drug."
Operation Bakus was the first time officers in Scotland had seen cocaine sealed in a jam sachet.
Mr Simpson, who is a civilian worker for the SCDEA and a former police officer with Strathclyde Police with 32 years of service, said: "It felt like a package of jam. It weighed the same as a package of jam.
"When you squished it about there was nothing to suggest there was anything in it.
"So you really had to probe to find out that there was actually cocaine inside it."
Mr Simpson, a statement of opinion manager for the SCDEA, said criminals were only limited by their imaginations when attempting to disguise drugs.
During a recent visit to Colombia, Mr Simpson said scientists told him that anything could be either made from cocaine or impregnated with cocaine.
He was shown brown coffee beans that had been made from cocaine and painted brown.
Mr Simpson said cocaine dealers in Scotland had also developed skills to reduce the purity of drugs to maximise their profit.
He said officers had regularly seen some cocaine where the purity was as low as 1% or 2% in Scotland, below the average of 5% for the country and lower than a purity of about 20% for England and Wales.
He said Benzocaine, which can be mixed with the cocaine to dilute the purity, was being brought in to the UK at a "fierce rate of knots".
He added that the level of purity was contributing to drug users switching to buying ecstasy, which had seen an increase in use.