More Scots school leavers have Higher qualifications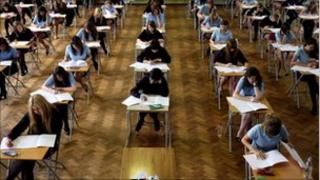 More pupils are leaving school with at least one Higher qualification, according to new figures released by the Scottish government.
But significant numbers are still leaving without the most basic qualifications and many have no employment or training lined up.
The statistics show that 53% of pupils who left in 2010 had gained one or more Higher.
However, 6% of 16-year-olds left with no qualifications.
The figures also gave a picture of pupils' destinations after leaving school in 2010, with about 15% of 16-year-olds not having a job, training, college or university place to go on to.
About a third of school leavers moved on to higher education and 24% entered further education.
Almost a quarter of pupils went straight into employment.
Life chances
Education Secretary Michael Russell said: "For the first time, we now have more than half of the number of school pupils leaving with at least one Higher, and the number who leave without at least a qualification at access level three has fallen.
"However, this is far from the end of the story and the Scottish government's priority is to raise ambition and attainment so pupils have developed the right skills and knowledge leaving school to have more choices and better life chances."
The figure also show the highest percentage of pupils taking school meals since 2004, with almost 20% of children now registered for the service.
The government has also published education figures for "looked after" children in care, providing a fuller picture of this area.
Mr Russell added: "This improved picture of the issues facing children and young people in the care system shows the scale of the challenge if we are to better support looked after children.
"It makes absolutely clear why early intervention is critical to increasing life chances."
The Scottish Parent Teacher Council said there was a long way to go to improve outcomes for a significant minority of young people.