Sympathetic ear for 'flawed' social report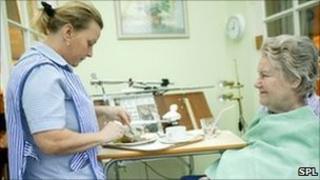 It would be easy - very easy - to be sceptical, indeed, cynical about the outcome of the Commission on the Future Delivery of Public Services, chaired by Campbell Christie.
They have nothing to say on pending job cuts in the public sector. They have very little to say, other than very general approval, on current proposals for restructuring, such as in the police and fire services.
In that sense, one might question what they bring to the table when John Swinney begins the process of formulating his next budget.
Perhaps I have been mellowed by the imminence of summer (it cannot be long delayed, can it?) or by the glorious prospect of United starting another European run.
Whatever the cause, I am inclined to give them a more substantive hearing. As, it would appear, are sundry bodies ranging from political parties to councils.
Aimless life
There are potential flaws aplenty. The focus of the report is upon early intervention to prevent the emergence of social problems which will, otherwise, land the state with big bills later down the line.
In short, they say, let us try harder to prevent families from requiring social care, to prevent people from requiring hospital treatment, to deflect young people from an aimless life which ends in prison.
So much, so obvious, you might remark. But the Christie Commission suggests a range of practical ideas as to how this over-arching ambition might be mandated within the public sector.
They want a standard set of duties and powers to be set out for the public sector - with the money following those who demonstrate a capacity for integration and ending duplication.
They want greater clout for Audit Scotland in order to enforce this drive towards efficiency.
There are umpteen other recommendations - including a plan to transfer the Jobcentre Plus network to Holyrood control. But let us focus upon that intrinsic concept of preventative provision.
Cash benefits
Herewith more potential flaws. Won't that require pump-priming money while the system is changed? How does that square with a situation where John Swinney requires to make cuts now, where his budget is due in September?
Won't any cash benefits from preventative care take a long time to emerge when, again, the cuts are required now?
Won't the talk in the Commission report of "empowering" people and communities simply vanish, squeaking plaintively, into the vast cavern of public bureaucracy?
You can, perhaps, prevent people from ending up in the slammer. But how do you prevent folk from growing old and, thus, requiring care?
Against that, Mr Christie and his team say that they are setting out a mid-term vision of an entirely different culture in public provision: prevention rather than cure, community-based rather than top-down.
They say their objective is to reduce demand. Otherwise, they say, the twin pressures of budgetary restraint and demographic changes will "overwhelm" the entire system.
On care of the elderly, for example, they say the objective must be to integrate service provision so that the first option is not automatically hospitalisation, the most costly.
Wider debate
As the former general secretary of the Scottish TUC, Campell Christie has been a player on Scotland's public stage for many years.
He has always been an evangelist for reform. He has always sought change, preferring discussion and thought to posturing and bombast.
Again, with this report, it is easy to be sceptical. When will someone grasp hold of the issue and implement the cuts which are going to be required?
Mr Christie's answer is that his Commission is contributing to a wider debate about how public provision is to be shaped: action which will be required, regardless of what is done in the immediate term about funding.
He sees his report as complementing the Independent Budget Review under Crawford Beveridge which, among many other things, questioned the universal provision of certain services.
Next step, government. Next step, action by ministers. The Scottish government has set up a team to take forward a programme of reform - including, one can presume, restructuring.
It held its first meeting today.