Thousands of Scottish public-sector workers strike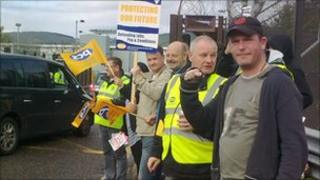 Thousands of public-sector workers in Scotland have taken strike action over pensions.
They have been campaigning against proposals by the UK government to reduce the cost of supporting retired employees.
The Public and Commercial Services Union (PCS) has said it would mean its members working longer and contributing more, for a reduced pension.
The government said its plans were fair to taxpayers and to its employees.
CPS has estimated that about 30,000 public servants in Scotland will be taking part in the strike.
They included workers at the Scottish parliament, at some court buildings and at the passport office in Glasgow.
Civilian employees at defence establishments, including HMS Naval Base Faslane, have supported the action.
There has also been disruption at a number of museums, at job centres and at driving test centres.
Although some officials at airports have gone on strike, there have been no significant delays for travellers in Scotland.
Janice Godrich, the president of PCS, joined a picket line in Glasgow. She claimed there was strong support for the action.
She said: "We've just seen two people, after discussions with their colleagues, turn around and decide not to go into work.
"I have to say that I think all the scare mongering, and all the intimidation quite frankly, over the last few days - particularly from senior ministers - has not had any impact on people's resolve."
Glasgow rally
The government believes that about one in five of the UK's 500,000 civil servants are on strike.
It said talks were still going on which would keep public sector pensions "among the best available".
Grahame Smith, the general secretary of the Scottish Trades Union Congress, spoke at a rally in Glasgow.
He said: "I will not apologise, and no worker should apologise, if they have a final salary pension scheme and they can retire before they are 65.
"These attacks on public sector pensions are a cash grab to fund a deficit caused by greedy bank bosses, financial speculators and the politicians who let them away with it."