Mane plait theft warning for horse owners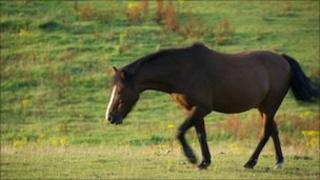 Horse owners in Scotland have been warned to be vigilant after reports that thieves have been attempting to steal the animals.
The Scottish SPCA said it had received calls from horse and pony owners in Alloa, Biggar and Peebles who were worried they were being targeted.
Horse thieves often plait or braid the manes of animals that are intended to be stolen.
Anyone who notices these markings is being urged to report them to police.
Mike Flynn, from the Scottish SPCA said: "Thieves will plait the manes of the horses they want to steal so when they return with transport their target is easily identified.
"If the horses had been stolen it is likely that they would have been sold on.
"We would urge all horse owners in these areas to be vigilant and look out for any deliberate markings or plaited hair on their horse that they have not done themselves."
A similar warning was issued in April 2010 after several horses in Fife were marked out in this way.