Age old problems with care costs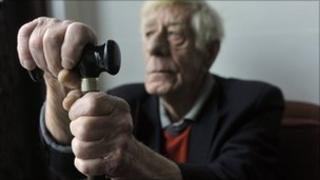 The insurance industry won't touch an open-ended commitment to our old age care costs.
How could its actuaries estimate the likely care costs decades ahead of the bills coming in, when medical interventions and technology could change beyond recognition?
That market failure means many people in Britain carry the risk of catastrophically high care costs all on their own.
It's estimated that quarter of those aged 65 can expect very low costs of care through the rest of their lives, while half will pay up to £20,000, and one in ten will have costs of more than £100,000.
It's a lottery which category you'll be in. And if you have assets of more than £23,000, you're liable to pay for your care costs as well as the 'hotel' costs of a room and board.
For those heading towards old age with at least modest assets, many can be left genuinely scared of the unknown costs - and at a time when they also fear their faculties failing.
So today, we've got another attempt to tackle the problem as a matter of public policy.
This is for England, where care for the elderly has gone unaddressed for too long, becoming something of a mess.
Andrew Dilnot has led a three-member commission that's recommending the threshold for becoming liable to care costs should rise from £23,000 to £100,000. That means that if you have a modestly-valued home, you shouldn't have to sell it.
His commission is also recommending a cap on the lifetime bill you could pay, of £35,000. Anything over that, the state should pay for. At that level of maximum risk, it's reckoned that the insurance industry can get involved.
The bill, of about £2bn per year (for now, at least) has some in the deficit-slashing coalition reported as saying the report is "dead on arrival" in Whitehall.
Scot free
No such worries for Scots, of course. Or are there?
For the past nine years, personal care has been promised for free, via a cross-party consensus at Holyrood.
The costs have risen sharply during that time, councils say it's underfunded and think tanks say it's becoming unaffordable. But it's a no-go area for anyone at Holyrood to admit as much.
However, Andrew Dilnot - formerly boss at the Institute of Fiscal Studies - has warned the Scottish system of payments isn't all it might seem. He told the Today programme on BBC Radio 4:
"It leads to a significant increase in costs, and our strong sense is that if we were to recommend it, it simply wouldn't happen.
"But more importantly - less pragmatically and more in principle - if you look at the countries where it has been introduced - Germany, Japan, even Scotland - as public finance pressures increase, there's a tendency to squeeze down eligibility, to reduce the amount that will be paid out, so that the most vulnerable end up being hit".
Long-term planning
An annexe to the report amplifies this point, though it doesn't say why the most vulnerable are inevitably hit: "Experience in other countries, such as Germany and Japan, which have recently reformed their social care funding models, demonstrates the vulnerability of a free care system to a changing economic and political environment. In both of these countries, social care costs rose more quickly than had been predicted or governments were willing to sustain, and both governments adjusted their systems - by making them less generous - to control these costs.
"This then went some way to undermining the promise of free care as people were still exposed to significant costs. Free care is not in our judgement a resilient proposal".
On radio, Andrew Dilnot went on to say of the Scottish system: "It's very important that we have a system that people believe will still be there in 20, 30 or 40 years time. Our judgement is that a system that promised free care wouldn't last, and even if it were to be introduced, it wouldn't be relied upon."
That's a really important issue for Scotland's open-ended offer. It's one thing for politicians to say they want to provide it, and they're committed to it. It's another thing to be absolutely sure they can, and to be sure it will still be there for people who are now making financial plans that will come into effect decades after today's politicians have left office.
Andrew Dilnot also observed that Scotland requires people to pay their 'hotel costs' of room and board, as he's also proposing for England. But he claims that in Scotland, that element of cost is being used to undermine the notion of free care.
He said today: "In Scotland, care costs have been disguised as accommodation costs. So we're saying there should be a cap on accommodation of between £7,000 and £10,000 - and it's important to remember that everyone has their minimum income guaranteed at a little bit more than £7,000 a year through social security".
Erratic bills
The question marks over the affordability of Scotland's open-ended commitments were raised most prominently in last year's Independent Budget Review - commissioned by the Scottish government and headed by Crawford Beveridge. It said the Scottish government should revise the eligibility criteria for care costs, noting that "a significant number of older people are being supported who would otherwise have sufficient resources or disposable assets to fund their own care".
The Scottish government may not be in a rush to do so, but the Scottish Parliament's Information Centre (SPICe) has had a go. While the first nine years have seen erratic changes in the total bill, it says the current trends point to an increase of 212% over the next 22 years in the cost of delivering the policy.
That's not driven so much by increasing life expectancy as by the number of baby boomers hitting their old age.
Their statistical model looks at what might happen with a rise in the eligibility age, from 65 to 75, or using other qualifying criteria to cut the number of people aged 65 and over who are now eligible.
The conclusion is that demographic change won't help keep costs down much, and that cutting entitlements would have to be "aggressive" if that is to be an effective tool.
If costs are to be kept at 2008 levels, the level of spending per person is going to have to fall by 52%.
So while Andrew Dilnot's commission may be heading into very difficult territory for England, with the coalition government unwilling to spend more, the report may have lessons for Scottish government, as it addresses the challenge from the opposite position.
Getting those with some assets to spend a limited amount of them - perhaps up to £35,000 - could be worth a look for the sake of the long-term sustainability of Scotland's finances.