Scottish charities launch East Africa drought appeal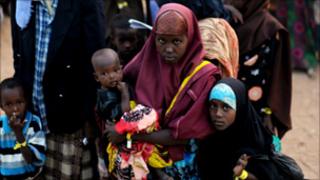 A group of Scottish humanitarian agencies has launched a joint appeal to help millions of people caught up in drought in East Africa.
The Disasters Emergency Committee (DEC) will broadcast a series of televised appeals in a bid to seek support for thousands of families.
The agencies will provide food, water and medical supplies to those affected by the drought.
The DEC appeals will be broadcast on ITV, BBC, Sky and Channels 4 and Five.
Chairwoman of the DEC appeal in Scotland Kathy Galloway said: "Families, including vulnerable children and the elderly, have slowly seen their lives fall apart because of this devastating drought.
"Agencies in Scotland and throughout the UK are co-ordinating resources and providing vital food, clean water and medical supplies on the ground."
She added: "Despite the tough economic times at home, we know that people in Scotland are always incredibly generous when a humanitarian crisis strikes.
"We urgently need the public's help to save more lives, and every penny makes a difference."
According to the DEC, which co-ordinates responses to major disasters overseas, more than 1,300 people - the majority of whom are youngsters - are arriving in the Dadaab refugee camp in eastern Kenya near the border with Somalia every day.
The camp is already believed to be the largest of its kind in the world, with a population of about 350,000.