Offshore winds shift onshore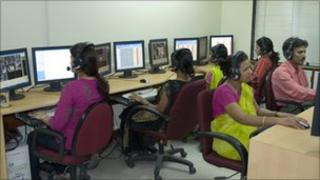 What's your reaction when you get through to a call centre in India?
Frustration at someone who won't give their real name, with a failure to understand you or to speak clear English?
Or do you feel relief that you are talking to someone who is educated, well trained and motivated, and whose employment is part of that country's vital economic development?
For customers of Santander, over the past eight years of offshoring its call centres, feedback shows Indian call centres have led to a lot of frustration, meaning they feel the customer experience is worsened.
That is why the Spanish-headquartered bank has ended its contract with a call centre operator in Bangalore and Pune.
We don't know how many jobs are being lost there, but it means the bank has taken on 500 new staff in Britain, 150 of them in Glasgow, with the others in Liverpool and Leicester.
The decision won't make a huge dent in the growth of India's IT-enabled business processing sector. Note: it is not seen as a call centre sector there.
The contact centres are only one part of a gigantic sector ranging across software and other IT services, employing 2.23 million people, indirectly supporting about eight million jobs in total.
According to NASSCOM, industry body for the sector in India, it now accounts for 6% of the country's economy, with revenue of nearly £49bn. It is expected to grow at 19% this year, and although exports are at nearly that rate, the fastest growth is from India's domestic market.
Rising wages
In place of call centres, far more work is now in back office processing, where it doesn't matter that English is spoken with a heavy accent. Almost anything that can be done on screen in the UK can be done down a cable in India.
For instance, one aspect of the meltdown at the News of the World was that emails were being archived in Chennai where it was claimed some vital messages were lost - but it now seems the Indians weren't as careless as some at News International had hoped.
But there is one factor in world trade that is shifting, as India, China and other emerging countries emerge. Even though wages remain relatively low, the gap is closing, and their cost advantage over developed nations is being eroded.
A report in the Economist magazine said manufacturing consultants in the US have recommended multinational companies should think again about offshoring to cheaper locations, on the basis that they may not be that much cheaper.
That seems less true of India and its exporting services sector, where, yes, wages are rising fast, but where there are also significant productivity gains through innovation.
But in China, manufacturing wages have risen 69% between 2005 and 2010, and if they rise at an estimated 17% per year, China's cost advantage over the US - in which labour costs play a diminishing element - could have disappeared as soon as 2015.