Crime profits fund budding Scottish basketball players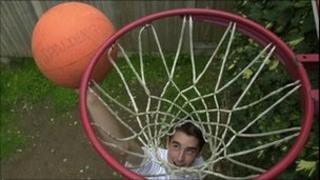 Money seized from criminals has been used to help budding young basketball players in Scotland.
The Scottish government said the cash funded sports sessions attended by youngsters who have now gained places in national basketball squads.
The government said 2,272 youngsters had taken up the sport through the Jump2it and Twilight Basketball programmes.
The schemes are run by Scottish Sports Futures.
They are funded by grants from the CashBack for Communities initiative.
Nine boys and three girls who took part in the sessions are now linking up with international under-12, under-14 and under-16 teams.
On a visit to the Young Starz basketball camp in Stirling, Justice Secretary Kenny MacAskill, said: "Our hugely successful CashBack programme is all about broadening young people's horizons and putting them on a positive path in life using money seized from crooks.
"That is why it is so exciting to see youngsters who began playing the sport through the Jump2it and Twilight Basketball programmes progressing through local clubs to national squads."
Ian Reid, chief executive of Scottish Sports Futures, said: "This would not have been possible without the CashBack initiative and it shows the money invested in the community does actually make a difference.
"We wish our young stars all the best and know that they will become great ambassadors for our programmes."