Alistair Darling vows to fight against independence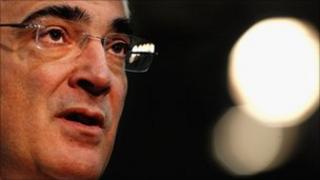 Former Chancellor Alistair Darling has pledged to play an active part in the campaign to keep Scotland in the UK.
Speaking to BBC Scotland, the Edinburgh MP again urged the Scottish government to hold an immediate referendum.
The SNP has indicated a referendum on negotiating independence will be brought forward towards the end of its five year term in office.
Mr Darling also insisted an independent Scotland could not have afforded the banking crisis.
He told BBC Radio Scotland's Newsweek programme: "I'm sure there are many people in Scotland, me included, who, when it comes to the referendum, and I've already put this on record, who would say why not have it now?
"I believe passionately that Scotland's best interests lie both within the European Union and within the UK and I will play a very, very active part in that, as will everybody else who has got Scotland's interests at heart."
However, Mr Darling would not reveal if he is in the running to lead the campaign to preserve the Union.
He also questioned the ability of an independent Scotland to have handled the global financial downturn.
'Wishful thinking'
Scottish Secretary Michael Moore has previously said the banking crisis would have placed a "crippling burden" on Scotland.
However, George Walker, professor of financial regulation and policy at Glasgow University, told Newsweek that Scotland would have assumed a proportionate share of "around possibly only 5% of the total costs concerned", based on the locations of the subsidiaries and business operations of HBOS and RBS around the UK.
Andrew Campbell, professor of international banking and finance law at Leeds University, added: "The reality is that the situation should never have been that Scotland, if it was independent, would have to foot the bill for the entire amount of rescuing RBS."
However, Mr Darling, who was at the helm of the UK Treasury at the time of the banking bailout, described this as "a lot of wishful thinking".
He said: "The thing you've got to remember about these multi-national global banks is, as the governor of the Bank of England said at the time, they are global in life but national in death.
"So when they get into trouble the buck stops with the home country."