Nation of shopkeepers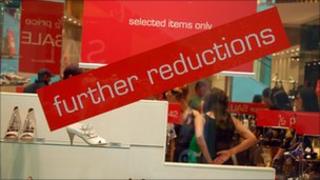 High streets are at the heart of communities, the traditional market meeting place of trades and social classes.
So what's going wrong with them, and with the retail sector?
There are short-term effects of recession, as all those months of depressed spending - particularly on non-discretionary items - takes its toll and the businesses run out of rope and capital.
That helps explain why Moben kitchens and Dolphin bathrooms finally made it into administration this week.
Paisley Squeeze
But there are also longer-term trends that are ripping the heart out of town centre shopping.
One has to be the out-of-town shopping centres. I've been to Paisley this week, for the Business Scotland programme, and although it has so much going for it in great Victorian architecture and a fine abbey, it has so much going against it.
Within four miles to the north, you can be in Braehead shopping centre. The same distance to the east is Silverburn. Both are huge shopping honeypots.
And Glasgow isn't so far away, where Buchanan Street is rated the world's 43rd most valuable fashion retail street, and Britain's third most expensive, after only Old Bond Street and Oxford Street in London. However, the 'Z' shaped 'style mile' around it is shrinking and becoming more of an 'I'.
So Paisley, with a big sprawl of small-scale retail space, is squeezed from every angle.
Click and Collect
You can hear more from there on the programme (Business Scotland, Sunday, BBC Radio Scotland, 1005 BST and again on iPlayer and free download). It includes a short guided tour by Tom Johnstone, Scottish retail consultant at Colliers International and president of Renfrewshire Chamber of Commerce.
I also heard from David McCorquodale of KPMG about the big picture in retail at this particularly difficult time for the sector, and my colleague Julie Peacock has been to West Kilbride in Ayrshire to find out how it's getting on establishing itself as a destination town for craft shopping.
One of the pressures on conventional, traditional retail is, of course, coming from internet shopping. And in preparing the programme, I've been struck by the recent Colliers International review of the sector. Although online retail continues to grow fast - at about 11% per year - it is slowing up a bit.
Why? Because of delivery charges, it seems, plus the inconvenience of delivery times, and of returns. There are solutions being trialled by some, such as same-day delivery in urban areas and 90-minute delivery slots. Quality of service will play an increasingly important role in e-retail.
And there's a potentially expensive threat to the sector from a draft European directive that could force e-retailers to pay for all returns.
A significant growth area is 'click and collect', where you shop online and then go to the nearest store, avoiding the need to choose while you're there. That, however, raises the problem of traffic flows around shops that are already busy.
And I have yet to see much concern about the huge amount of packaging with online deliveries. There's great campaigning potential there for anti-waste lobbyists.
Shopping wall
Another concern raised by Colliers relates to mobile phone shopping, with the astonishing figure that 83% of shoppers have transactions fail because of problems with phones and connections.
Mobile technology is far more advanced in Korea, where Tesco this week unveiled a trial aimed at commuter shopping. Instead of opening up outlets, they've placed electronic posters along the walls of subway stations for a 'shopping wall', made to look like brightly-lit supermarket displays.
Click on the barcode, place your order, and it will be delivered to you when you're home from work in the evening.
And talking of retail innovation with smart phones, here's food for thought: Colliers says stores will have to adapt, for instance, with larger, well-lit changing rooms in which customers can take photographs of clothes so their friends' opinions can be sought before purchase.
So, yes, your bum can look big in those trousers - so big, it can be viewed from another country.