MSP Stewart Maxwell wants A&E patients to help cut crime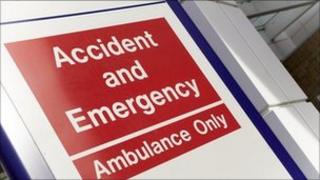 Victims of violence should be urged to give details of their attack to hospital staff to help police identify crime hotspots, an MSP has said.
The SNP's Stewart Maxwell wants the Scottish government to introduce a system based on a successful scheme in Wales.
The study, led by Professor Jonathan Shepherd of Cardiff University, reduced incidents of violent crime by 42%.
Mr Maxwell has written to the Justice Secretary Kenny MacAskill on the issue.
The Welsh study examined the impact of hospitals sharing with police information gathered, anonymously, from patients at A&E units.
Staff were asked to record when and where violent crimes took place, as well as the weapons used.
Mr Maxwell said: "The introduction of a system of information sharing between hospitals and police in Wales resulted in a remarkable reduction in violent incidents.
"I am more convinced than ever that the introduction of a similar scheme in Scottish hospitals would enable police to better target their resources and help significantly reduce violent crime across Scotland."
The idea has been trialled in Lanarkshire.
Doctors and nurses at Hairmyres Hospital in East Kilbride were asked to record information on assaults, as part of a joint initiative between NHS Lanarkshire and the Violence Reduction Unit (VRU).
Mr Maxwell has been campaigning for a reporting system for violent assaults in Scottish A&Es since 2006.
He said: "The World Health Organisation has stated that it hopes to see this model introduced across the world as a key strategy for crime prevention.
"I believe that implementing this system alongside the SNP government's plans to reintroduce a minimum price for alcohol would represent a significant step forward in making Scotland safe from alcohol-fuelled violence and crime."
A Scottish government spokeswoman said: "We strongly support this initiative which has a proven record of reducing incidents of violent crime as well as reducing costs to A&E departments.
"The Violence Reduction Unit is currently supporting pilots of injury surveillance in a number of hospitals in Lanarkshire.
"Evaluation and learning around these pilots is ongoing and the lessons from these will be used in any further roll out."