Picking over the News Corpse?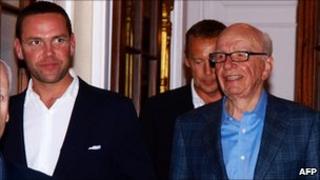 The storm that has broken over News Corporation is not losing any of its force, and looks like it may yet cut a devastating trail through the Murdoch family brand.
It is bad enough to find you are losing billions of dollars of market capitalisation.
It is bad also that investors, including a New York bank, are suing Rupert Murdoch for using the vast media conglomerate like "a family candy jar".
Insult is added to injury, when America's top TV satirist, Jon Stewart, weighs in with no less than seven minutes of material about the scandal.
This wasn't so much satire, as recounting what News Corporation journalists were up to in the UK - which has its own very dark humour about it - leaving his audience gasping in horror.
Ethical investors
But what about the future of the company? PIRC, the organisation that advises investors on company governance issues and has been urging more activism, is highlighting the discomfort, particularly from ethical investors such as the Church of England.
And it says that both News Corp and BSkyB have had red flags over them in terms of poor corporate governance for years, mainly because of the influence of one family.
That's why News Corp has featured in the worst 5% of companies in the S&P500 for its governance arrangements.
James Murdoch's rise to the chair of BSkyB is looked at again by PIRC, finding that only four institutional investors questioned his rapid elevation, including Baillie Gifford. The others simply backed the Murdoch brand, presumably because it had delivered for them in the past.
Revolt
So PIRC is urging investors to take this rare, if not unique, opportunity of crisis within News Corporation, News International and BSkyB to make some big changes at the top.
There are two catches. One is that News Corp has just announced a share buy-back, which was already under way and is to rise to $5bn.
That comes from balances it had expected to use for buying the remaining shares in BSkyB it doesn't already own. That deal is now on hold, and looking very doubtful.
It also has the effect of concentrating ownership of the company, and reducing the danger of a revolt against the Murdochs.
Inky fingers
The other catch is for those with an interest in British newspapers.
If investors were to hobble Rupert Murdoch, one of the first things they could be expected to do is to streamline the sprawling company and focus on what's making most revenue and profit, in parts of the world with growing markets.
That wouldn't include the British newspapers, which have lost their profitability while the television and film parts of the empire have grown it.
But having been the bedrock for the growth of News Corp, the Wapping stable of titles has been indulged for more than 40 years by the inky-fingered mogul.
If this story of imperial collapse continues its blistering pace, what could the consequences be for the British newsprint media of divestment?
Who would want to buy, and then invest in, the loss-making Times and Sunday Times, or the rather more profitable but tainted Sun?
And given the history of British newspaper proprietors, how sure can we be that they would be any better?