New affordable homes plan given go ahead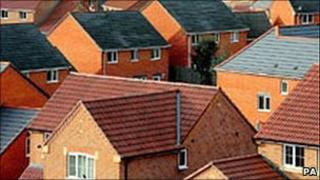 A new scheme which plans to deliver new affordable homes has been announced by the Scottish government.
The first contracts have been signed for almost 100 properties in the Highlands and the Borders.
The National Housing Trust initiative, led by the Scottish Futures Trust, will see private developers and councils fund projects together.
The government has said the move would keep levels of rent at below market rates.
Infrastructure Secretary Alex Neil believed the projects could be secured for very little taxpayers' money and in addition they would support jobs and boost the construction industry.
The initiative would see developers and local authorities jointly fund the purchase of newly-built homes.
Further contract signings are expected over the next month that would kick-start even more construction across Scotland.
According to the government, the first phase of the initiative is expected to generate about £100m of investment and support more than 1,000 jobs in the construction sector and wider economy.
Mr Neil said: "I am delighted that our creative, innovative National Housing Trust funding model, the first of its kind in the UK, has borne fruit.
"It will deliver hundreds of new homes, secured for very little taxpayers' money, support jobs and stimulate construction in response to the recession."
Jonathan Fair, chief executive of industry body Homes for Scotland, said: "I am delighted to see the first contracts signed for delivery under the National Housing Trust model."