Fergus Muirhead answers your consumer questions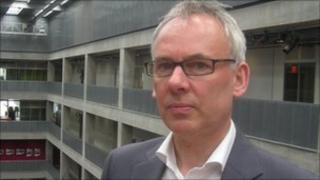 I'm Fergus Muirhead and I'm here to answer any questions you may have about any money or consumer issues.
Please drop me a line here at fergus@bbc.co.uk with your questions.
You can also read more on money and consumer issues on my own blog.
Just watched your slot on lunchtime news. I was wondering if you could offer any help on a problem we are having. My niece recently celebrated her 16th birthday and decided to spend the money she was given on a camera. She did her homework on the internet, or so she thought and decided to spend £400 with Camerabox. She telephoned them and was told to order online, but asked about delivery. She was told delivery would be within a few days. This was acceptable as she required the camera for a school trip. Placed the order online, paid with debit card, money was taken from account immediately but much to her disappointment no camera delivered. Contacted the company who told her that it had not been despatched but she could cancel and refund would be paid within 10 days. This she did but no refund arrived. We have tried to contact the company by telephone and email. A telephone message says they are not open for business and an email automated reply says they are not trading just now due to key members of staff leaving. We have no idea what is happening or where to go for help and advice. Can u help or advise us. Irene Grey.
I'm afraid that the short answer in this one is that unless you paid for your daughter's purchase using a credit card it is unlikely she will see her camera, or money. Camerabox are now in administration (from 28 June 2011) and a statement on the website at www.camerabox.co.uk confirms that any orders placed with the company but yet to be delivered will not now be 'fulfilled'. While it won't help your daughter it might be a good time to remind other readers that if you pay for goods online or in a shop using your credit card and for purchases of over £100 but less than £30,000 then you could have protection under Section 75 of the Consumer Credit Act. With the fragile state of the economy at the moment it might make sense to use this valuable protection whenever you can, but remember that it applies mainly to credit cards and not debit cards.
I took out a personal loan with Tesco Finance in October 2003, there was PPI (payment protection insurance) added to the loan. With all the recent coverage about claiming back the insurance from banks etc, I would like to know what is the best way to try and reclaim any money owed to myself. Can you please advise me if there is a way of carrying this out without using a claim back company, or if this is not possible then can you please advise me of any favourable companies out there, as I have heard of people winning their cases but the companies took all the money back as their fee for winning the case. Mr Robert Mullin.
I think you should be able to make a claim for a refund yourself, as long as you are happy that the PPI was indeed sold incorrectly. It's worth pointing out that PPI is actually a good product, and provides worthwhile protection, if you purchased it for the right reasons and you would be able to benefit from a claim that you made. The reasons that people have for asking for a refund on the basis of being wrongly sold the insurance is that they would not have been able to claim because they were not in full time, permanent, employment, they had a pre-existing medical condition that would have been excluded or were self-employed. Not every policy would exclude all of these eventualities but in general these are the main exclusions and if any apply to you and you were sold a policy then you may have grounds for a refund and claim. In the first instance you should speak to the company that sold you the policy and ask them to deal with it for you. If you have no joy then you should go to the Ombudsman who should be able to help you. There really is no need to pay a third party to help you since all that will mean is that you will end up with less money.
A lot of mention is made of taking independent financial advice. I would like to know where I can find an independent financial adviser in the Edinburgh area and how do you know what fees will be charged? Is an IFA obliged to have an initial free meeting with a potential client to find out their requirements and then provide a quotation on what it will cost for their services? In effect can I shop around? If you look around the internet it all becomes a bit overwhelming! I am 44 and have a good knowledge of financial products. That being said I feel I am sometimes a bit out of my depth on where to go next with pension planning by the age of 60 and what to do longer term with my 4 buy-to-let properties and the associated borrowing against them. William Wilson.
Can I start to answer your questions by saying that in terms of finding an independent financial adviser in your area you could go to www.unbiased.co.uk and do a search. You can refine the search by geographic area or by the type of advice you are looking for. You can also access the Financial Service Authority website at www.fsa.gov.uk to check that the individual you want to talk to is registered and authorised by the regulator. You can most certainly shop around but you need to ask up front how each advisor you talk to will charge you for his or her services. Most will offer a free initial meeting, but there is no obligation for an advisor to do so. At any initial meeting you will want to make it clear the sorts of areas you are looking for help with and you need to check that the advisor you are talking to is qualified to offer help in these areas, and that his or her firm is authorised to do so. In order for an IFA to help you properly plan in the areas you mention you will have to share a lot of personal information very soon after meeting him or her for the first time so the most important issue, once you have confirmed the charges for services, is that you feel you will be able to develop a long term working relationship with the individual you choose. Importantly financial planning is not about the sale or products or the moving about of investments, but about a long term strategic look at what you are trying to achieve, and about designing a plan to help you get there. It's an important question and one we will be covering on the programme in a couple of week's time.