BAA's exit doors to manual over Scottish airports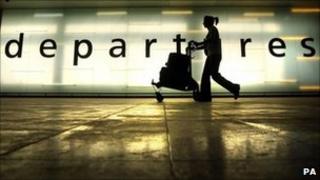 The Competition Commission has done what it says on the tin. After a long process of legal challenges, it still says BAA has to sell Stansted and either Glasgow or Edinburgh airports.
It's clear from today's final ruling that the company had given up on trying to protect its three Scottish airports, and put all its efforts into trying to save Stansted.
Having sold Gatwick in 2009, in a bid to fend off the Commission, it has been claiming that the coalition government's refusal to build another runway at Heathrow somehow changed the calculation on competition for landing slots.
Not so, came the response. Although it hasn't ruled out judicial review, it now looks like BAA can only hope to spin out the sale long enough to benefit from an upswing in the market for utility assets.
It had wanted to sell off the central Scottish hub ahead of Stansted. But it's lost that fight too.
Because of the scale of the London market, the Competition Commission says Stansted will have to be on sale within three months. There may be some overlap with the Scottish sale, both will have to be completed within two years.
East versus west
So which is it to be? Figures for June reinforce the trend showing Edinburgh Airport in a much stronger position.
Growth in passenger numbers in the year to last month was 5.5%, while Glasgow's fell by 0.5%.
Looking at the past five years, Edinburgh has soared past Glasgow in passenger numbers, registering 9m annual passengers until a dip in 2010 to 8.6m.
Glasgow, meanwhile, has declined each year from 8.7m in 2007 to 6.5m passengers last year.
There's a big gap in cargo as well. In the year to June, Edinburgh shifted 19,500 tonnes, and Glasgow trailed Aberdeen Airport with only 3,400 tonnes.
Contrast that with Stansted - double the number of Edinburgh's passengers and more than 10 times the capital's cargo traffic. Heathrow was off the scale with 68m passengers and nearly 1.5m tonnes.
Hubs and bottlenecks
Glasgow's relative weakness is partly because it lacks Edinburgh's ground transport links. It's on the wrong side of the city to pick up on travellers based in the east of Glasgow and beyond, whereas Edinburgh's airport is better placed for the whole of central Scotland.
That was particularly true before the M74 extension was opened last month. It ought to help unblock ground links to the Renfrewshire hub, making it less vulnerable to the Kingston Bridge bottleneck.
But then, the Glasgow Airport Rail Link has been shunted into a political siding for the foreseeable future.
Glasgow is also the poor relation because it has been built up as more of a holiday airport, with more seasonal business and fewer premium business passengers.
And while Glasgow does well, by most standards, in attracting city break visitors, it's still a second best to Edinburgh in marketing appeal to travellers from outside Scotland.
So, some assume BAA will sell off Glasgow. And it would make sense for the company to want to do so, though chief executive Colin Matthews has avoided showing his preference.
But BAA may not have much choice. With a two-year time limit, prospective buyers will know of its negotiating weakness and could go after Edinburgh instead - albeit at a much higher price than Glasgow.
Ruthless negotiator
Finally, what would the consequences be of separate ownership? Well, if the Competition Commission is right, it should push down landing charges and lead to more flexible terms for airlines.
Through this long process, and in trying to persuade the Commission to back off, BAA has already moved to give its airports more autonomy in negotiating with airlines.
That helps explain why Ryanair flies out of Edinburgh, but not Glasgow, and why its chief executive Michael O'Leary is happy to work with the capital airport's management but last week sounded off, characteristically, against Glasgow's.
Mr O'Leary presence is a reminder of one of the dangers a more competitive airport market could find.
Go to Prestwick and you find a New Zealand-owned airport almost entirely vulnerable to Ryanair's ruthless negotiating clout.