Edinburgh jazz and blues fans get the cream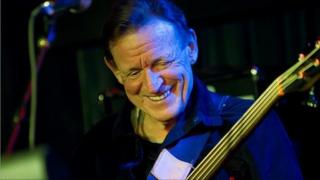 Blues legend Robert Cray and former Cream bass player Jack Bruce are among the star performers at the Edinburgh Jazz and Blues Festival.
British jazz star Courtney Pine and Louisiana jazz trumpeter Leroy Jones are also among the top names who will appear over the next 10 days.
The 33rd festival is being held earlier than usual and will finish before the city's August festivals begin.
The organisers said the move was intended to give it more "focus".
Moving the festival clear of August will also allow it to use some of the venues which will later be Edinburgh Fringe sites.
The Assembly, which has relocated to the popular George Square area, is hosting a number of jazz festival events in its three new spiegeltents.
The Edinburgh Jazz and Blues Festival, the UK's oldest jazz festival, will hold 90 concerts.
Former Cream bass player Jack Bruce will appear with a 10-piece band, covering classics by Blues legends such as BB King, Freddie King, Buddy Guy, Muddy Waters, Albert King, Howlin' Wolf and Robert Cray.
Cray himself will play the Queen's Hall on Saturday 30 July, the night after Bruce.
Other festival highlights include Curtis Stigers, Ken Peplowski and Trombone Shorty, from New Orleans, who recently appeared as himself in The Wire writer's HBO television show Treme.
The festival will also feature an event paying homage to the music of saxophone star Stan Getz.
One of the jazz festivals most popular attractions is the Mardi Gras, a parade which ends in a three-hour live music session on numerous stages in the city's Grassmarket.
The free event takes place on Saturday afternoon.
Festival producer Roger Spence said: "One of the special qualities of Edinburgh Jazz And Blues Festival is that we cover all styles of jazz and blues with equal commitment and emphasis, consequently we appeal to all ages and social groups.
"There are hard core jazz concerts, there are funky parties, traditional New Orleans recitals and salsa dancing parties, down-home blues and gospel services.
"We have sell-out concerts across all of these styles, with musicians and audiences loving the intimacy and relaxed atmosphere."
Mr Spence added: "By moving forward a week, we don't have the same competition for venues with the Fringe, so we've got a full 10 days with our tented village in George Square, in partnership with Assembly.
"Then we've got concert halls, theatres, club venues, and, of course, the hugely popular Mardi Gras - four stages with continuous music outdoors in the Grassmarket on Saturday afternoon - and the sun is going to shine."
The Edinburgh Jazz and Blues Festival runs from 22 to 31 July.