Retailers in fruit and veg pledge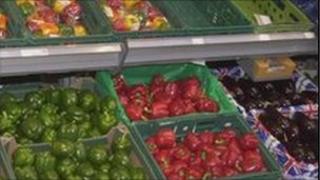 Eight of Scotland's biggest food sellers, including Tesco and Asda, have signed a pledge to help customers eat more fruit and vegetables.
The move is aimed at tackling the country's obesity crisis.
The supermarkets have signed up to implementing measures such as keeping fruit and vegetables "affordable".
They could also put higher quantities of fruit and vegetables in their own brand products such as soups and ready meals.
Another of the six "initiatives" from which the supermarkets can choose is strategically placing displays of vitamin-packed apples and avocados to encourage impulse buying, replacing chocolate and chewing gum.
They might also ensure a range of pre-prepared and ready-to-cook vegetables are available.
The other retailers who have signed up are Boots, The Co-operative, Marks & Spencer, Morrisons, Sainsbury's and Waitrose.
The voluntary arrangement is being co-ordinated by the Scottish Retail Consortium and is backed by the Scottish government.
Sport Minister Shona Robison, responsible for healthy weight issues, welcomed the retailers' commitment.
She said: "By enabling consumers to make informed choices about what is best to eat and the benefits of fruit and vegetables, this commitment from Scotland's retailers can help improve diet and tackle unhealthy weight."
Scottish Retail Consortium director Ian Shearer said: "The promise stores are signing up to will have an impact on how they price, promote and prepare fruit and vegetables. These are practical and affordable steps which make it easier for all customers to enjoy healthier diets."
Latest government figures, for 2009, show that two thirds of men aged 16-64 (66.3%) and more than half of women (58.4%) in Scotland are overweight, which includes those classed as obese.