Coldstream Football Club cries foul over swearing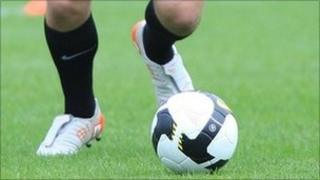 A south of Scotland football team is taking steps to crackdown on players and fans swearing at matches.
Coldstream Football Club said the level of foul language being used during its games had sparked a series of complaints.
Anyone swearing at games now faces being banned from watching the East of Scotland league club.
Other penalties may include receiving a stern letter from the football club, committee member Gerald Tate said.
He told BBC Radio's Good Morning Scotland programme some parents felt they were unable to take their children to watch the team play.
Mr Tate added: "We play in Home Park, which is a public park, and we've received several complaints from neighbours of the park, and people passing through during matches, when players are swearing and the odd supporter is swearing.
"We need to do something about it before the football authorities step in.
"On a quiet day, when there's no wind, it's clear there's bad language coming form the pitch and from the sidelines."
Mr Tate admitted it would be "very difficult" to enforce action, but he said the crackdown would be publicised by briefing referees before games, as well as a poster campaign and people to supervise during matches.
He also said one Home Park neighbour had offered to donate £1,000 to the club, if it was able to cut out the problem.