Perth's oldest house reopens after £750,000 revamp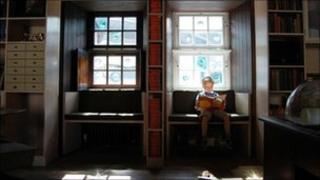 Perth's oldest secular building has reopened as a geographical education and visitor centre after a £750,000 refurbishment.
Fair Maid's House had fallen into disrepair after lying empty for more than 15 years.
However, the Royal Scottish Geographical Society (RSGS) has now brought the property back to life.
The official opening was performed by Finance Secretary John Swinney and Perth Provost John Hulbert.
The date was chosen to coincide with the anniversary of the unofficial founding of the society in 1884, when Agnes Livingston Bruce, David Livingston's daughter, and John Bartholomew discussed starting the organisation during a walk along the beach at North Berwick.
Made famous through its association with Sir Walter Scott's novel The Fair Maid of Perth, Fair Maid's House is the oldest secular building in the area.
The centre, which won Perth's 2011 Civic Trust Award for the ''exemplary approach to the adaption of a listed building for a new use'', opened to the public on Thursday.
The project has seen the creation of an education room, which was built between Fair Maid's House and the RSGS headquarters in Lord John Murray House.
The centre includes an old-fashioned library and explorer's room and a range of displays on geographical issues, the society's history and the geography and history of Perth and the house itself.
The society's collection of 300,000 historical maps, 40,000 books and artefacts of scientific exploration are also being put on display.
RSGS vice-president Professor Iain Stewart said: "It is fantastic to see geographical research alive and kicking at the new centre, one in which people can really get up close and personal with the past collections and appreciate their relevance to what's happening with the planet today."