Coastal communities to benefit from Crown Estate fund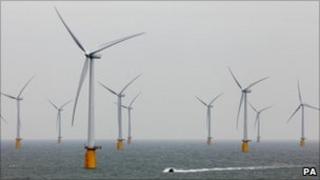 A fund worth more than £23.7m for the UK's coastal communities has been announced by Chancellor George Osborne.
The fund represents half of the gross revenues from the Crown Estate's marine activities.
The Scottish government has said the announcement does not go nearly far enough in returning money to the areas where it is raised.
The Highlands will receive £1.85m from the fund, with £2.05m for the rest of Scotland.
The UK government has said the announcement underlines its commitment to coastal communities.
Charities, businesses and social enterprises have been encouraged to submit "innovative" bids for a share of the resources being directed to what is being called the Coastal Communities Fund.
It will open in April 2012.
Mr Osborne said: "I know that coastal communities play a vital role in the wellbeing of the whole country and I am glad that we can provide support for them through this new fund."
The share of funding has been linked to the revenues raised in each country of the UK.
Richard Lochhead, Scotland's Rural Affairs and the Environment minister, said it was good that the UK government had finally woken up to the SNP's demands but the measure did not go "nearly far enough".
He added: "Scotland should benefit from 100% of Crown Estate revenues, not 50%.
"Full devolution of Crown Estate would give the people of Scotland a say in how public assets are used, rather than leaving decisions to the unelected commissioners who manage the Crown Estate.
"In recent months we have provided the secretary of state for Scotland with two detailed papers setting out the clear and rational case for change.
"However, despite this, Scottish ministers were not consulted on these latest, timid proposals. If UK ministers had had the courtesy to do so they would have been informed that these proposals are clearly inadequate.
"Under these plans Crown Estate revenues would still go south to Her Majesty's Treasury, with Scotland only getting half of our entitlement."
'Pot of cash'
The Crown Estate manages about half of the UK's foreshore and all of the seabed within 12 nautical miles of shore.
Offshore wind turbines have been a growing source of revenue in recent years.
The Crown Estate has granted permission to 10 developers planning to establish offshore renewal projects in Scottish waters.
Scottish Labour's Tom Greatrex MP welcomed the scheme, saying he hoped to see "this pot of cash grow and grow and help more and more coastal communities".
He added: "The last thing communities want is money going to Holyrood without any guarantee of it going to affected communities.
"As well as charities, businesses and social enterprises it is important that local councils are eligible to apply to the fund too."