Tougher penalties on knives announced by Lord Advocate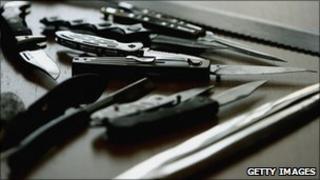 First-time offenders caught in possession of a knife are to face longer prison sentences.
The plan was announced by the Lord Advocate Frank Mulholland QC, and includes some people being tried by a sheriff and jury.
Mr Mulholland said this will increase the maximum prison term for those convicted to four years.
Knife offences being dealt with under the new process include possessing a knife on licensed premises.
Other targeted offences include carrying a knife in a violence "hot spot", on public transport, or at a bus or train station.
Mr Mulholland said: "Carrying a knife in public is completely unacceptable and a serious offence.
"Those in our society who choose to ignore this will face the full rigour of the law."
The move was supported by Ch Insp Graham Goulden of the police violence reduction unit.
He said: "The Lord Advocate's announcement sends out a clear warning to those carrying knives that their behaviour will not be tolerated."
Labour has described the move as "a step in the right direction".
Shadow Justice Minister James Kelly MSP said: "Labour will continue to speak up for the victims of knife crime and press for the tough action the public so desperately want."