Poles arrested after Dundee United Europa match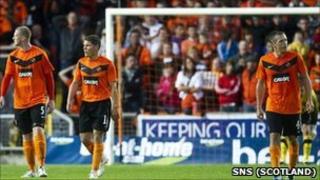 Four Polish men were arrested in Dundee as travelling football fans caused trouble in the city, police have said.
Dundee United's progress in the Europa league ended after the second leg tie resulted in an away goals defeat to Slask Wroclaw.
Police said about 2,000 supporters had travelled from Poland for the match.
Extra officers were drafted in after bottles and missiles were thrown by "drunken" away fans before the match.
Although there was some damage to property around the ground at Tannadice, no-one was hurt.
Tayside Police said a "small but vociferous" number of Polish supporters had been involved with "running skirmishes" with officers after the match.
'Show of force'
Ch Insp Graeme Donald praised Dundee United supporters for remaining calm.
He said there was "drunkenness and disorder" from the Polish fans throughout the day before the match.
Ch Insp Donald said: "There were missiles being thrown, there were bottles being thrown. Police were very quick to attend, in numbers.
"With a show of force, the fans saw better and moved off.
"I think it is safe to say that we did prevent some significant disorder, which was a distinct possibility."
Ch Insp Donald added: "After the match there was large numbers of fans, in their hundreds, running through the local streets around the football ground and eventually a number of these people made their way into the city centre as well."
United won the game 3-2 on the night but were knocked out on away goals by the Polish side.
More than 11,000 fans attended the match.
A spokesman for Tayside Police added: "The troublesome, so-called football fans were escorted onto buses and left Dundee around midnight.
"As is often the case in these instances, incidents were caused by a small number of fans fuelled by alcohol who were bent on hooliganism.
"These individuals were dealt with quickly and effectively by the police and have now left the city."