'Blue Book' reveals Scottish News of the World targets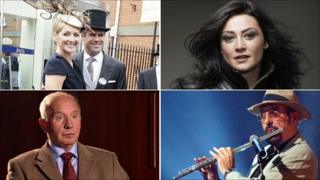 A dossier containing the names of Scots whose personal details were allegedly illegally sought by a News of the World investigator has been seen by the BBC.
The so-called 'Blue Book' details journalists' requests to private detective Steve Whittamore.
It features the names of many high-profile figures who later allegedly became victims of phone hacking.
According to the dossier, the Scottish News of the World employed Whittamore dozens of times.
The document contains hundreds of commissions, largely from News of the World's London office, and includes requests for a variety of legitimate, publicly-sourced information.
But there are also requests for sensitive information like ex-directory numbers, criminal records, vehicle registration details and Friends and Family numbers, which could be illegal if they have been accessed by blagging or deception.
Police seized the notebook from Whittamore's Hampshire office in 2003.
The 63-year-old was convicted of breaching the Data Protection Act in 2005, two years before Glenn Mulcaire and Clive Goodman were jailed for phone hacking.
The dossier suggests Whittamore was asked to illegally gain the personal information of about 30 Scots, many of whom appeared to be ordinary members of the public.
The document, along with other information, was handed to police after a press conference arranged by lawyer Aamer Anwar and Labour MP Tom Watson.
It contains a few Scots in the public eye, including former rugby star Kenny Logan and his wife, Gabby, a BBC Sport presenter.
Jethro Tull frontman Ian Anderson said he had not been aware of illegal attempts to access his details, but does not intend to take the matter further.
"I don't condone invading someone's privacy but it can happen when you're in the public eye," he said.
"I'm not happy about it but I've had 40 years' experience of dealing with journalists and I've found most of them to be honourable people."
Emmerdale actress Natalie Robb said she was upset to learn former News of the World showbiz editor Sean Hoare, who died earlier this week, had sought access to her personal details, on one occasion by blagging.
The better-known Scots targets were not confined to celebrities. Prominent union leader Sir Gavin Laird was also on the list.
But the Whittamore file does not contain evidence that the voicemails of any of the people listed had been listened to, and there is no reference to Tommy Sheridan.
Strathclyde Police told BBC Scotland it was in the process of retrieving the 11,000 pages of Mulcaire's notes from the Metropolitan Police, to cross-reference them with Whittamore's Scottish targets.
The evidence of witnesses who took the stand during Tommy Sheridan's perjury trial is also under investigation.
Those who gave evidence at the trial included former London editor Andy Coulson, Scottish editor Bob Bird and news editor Douglas Wright.
All three denied knowledge of phone hacking during the trial at the end of last year.
News International declined to comment.