Andrew Goudie to take up Strathclyde University role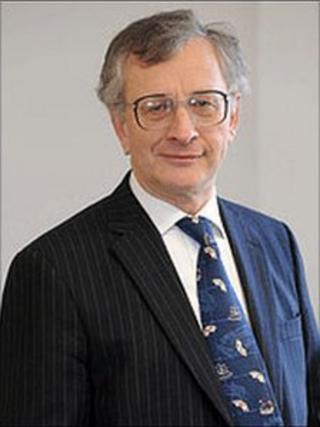 Scotland's top economic adviser, Andrew Goudie, is to take on a strategic role at Strathclyde University.
Mr Goudie, who officially retires from his Scottish government post at the end of the month, has been appointed as visiting professor at the university.
He will be based at the School of Government and Public Policy.
Mr Goudie will provide strategic advice and support to the principal and the university's executive team and help develop its international strategy.
He will work with colleagues across the university, including the Strathclyde Business School.
A former senior economist at the World Bank in Washington, Mr Goudie also worked as a principal economist at the Organisation for Economic Co-operation and Development in Paris.
He joined the Scottish government in 1999 and has since held the posts of director-general for the economy and chief economic adviser.
'Dynamic leadership'
Mr Goudie will join Strathclyde University after he leaves his current post at the Scottish government on 31 July.
He said: "Universities are more than ever before at the centre of our economic life and critical to the vision and aspirations that we all share for Scotland and the wider world.
"With the clarity of its current focus and its dynamic leadership, Strathclyde is ideally placed increasingly to contribute to these objectives.
"It already has an authoritative, independent and influential voice, and is rapidly building a reputation as a strong competitor on the world stage."
He added: "I look forward immensely to contributing to this development of Strathclyde into a truly global force, where academics and students see the exploitation of both domestic and international opportunities as central to their thinking."
University principal Prof Jim McDonald said Mr Goudie would play a key role in the development of the university's international strategy, helping the institution build and cement relationships with key partners around the world.
He said: "As a leading international technological university, Strathclyde strives to make an impact on the world around it through pioneering research, teaching and knowledge exchange.
"Dr Goudie's experience as an eminent economic analyst and strategist who has played a critical role in the development of economic policy across the globe will make him an excellent ambassador for the university."