Sniffer dog finds stowaways in lorry bound for Broxburn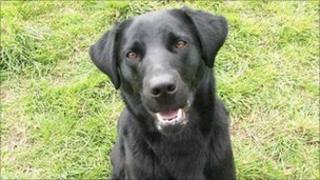 Six stowaways have been found by UK Border Agency officers in a lorry bound for Broxburn in West Lothian.
The discovery was made at the Calais ferry terminal in France after a search by a body detection dog.
The six people found in the lorry, who were from Vietnam, have been handed over to French border police.
The border agency has warned the driver of the lorry and the operator may be fined if they failed to secure the vehicle.
UK Border Agency officers use sniffer dogs, heartbeat detectors, carbon dioxide probes and physical searches to find people hiding in vehicles.
In this case, officers were alerted by a specially-trained dog, Lottie.
Carole Upshall, UK Border Agency director for South and Europe, said: "This incident shows why we base UK Border Agency staff in France to stop would-be illegal immigrants before they can reach the UK.
"Our strong presence in French ports helps protect the whole of the UK from people attempting to enter the country illegally."
In an unrelated operation, the border agency has found seven migrants working illegally at food outlets in South Lanarkshire.
Officers raided the Taara and the Manzil, both in Green Street in Strathaven.
The seven men, six from India and one from Pakistan, are now awaiting removal from the UK.
Both the Taara and the Manzil have been served with civil penalty notices for employing the illegal workers.
If they are unable to provide evidence that adequate checks were carried out before the men were employed, the Taara could be fined up to £40,000 and the Manzil up to £30,000.
Regional Director of the UK Border Agency in Scotland and Northern Ireland Phil Taylor said: "We are absolutely determined to stamp down on those businesses which ignore our immigration laws.
"Any employer who takes on foreign nationals without permission to work in the UK is breaking the law, undermining law-abiding businesses and faces fines of up to £10,000 per illegal employee."