Dollar doubts and franc speaking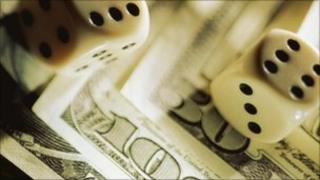 Americans always do the right thing, observed Winston Churchill, but only after exhausting all other possibilities.
And so it is with Washington budget talks.
Market pundits can't quite believe that Democrats and Republicans would push the country's currency and economy over the edge of a precipice, when there is clearly no need to do so.
They wouldn't be that stupid, would they?
It's on that basis that the markets and rating agencies are giving Congress and President the benefit of the doubt, for now.
If that ends, and stand-off leads to default, analysis from ING suggests there could be a seven percentage point drop in US gross domestic product in only one quarter.
It would be much less of a fall over a year - but by then, it is argued, a great deal of damage would have been done.
Getting a deal that takes them through next week's deadline for getting permission to raise the debt ceiling is a long way from getting a credible deficit-reduction plan in place. A downgrade from the US Fed's AAA rating would still be a possibility - some believe quite a strong one.
ING notes that there's a $4 trillion hole needs plugged to stabilise the debt by 2020 (it's quoting Standard & Poor), yet even the most liberal of higher tax advocates are proposing a tax increase on millionaires of a paltry $50bn.
Mighty greenback
That level of concern about the culture of denial in Washington is why the mighty greenback has lost its magnetic power as the preferred currency for flights to safety.
And in turn, that's why investors with liquid assets have piled them into gold, which has gained in value by 13% this year and has been trading at record prices this month. Ditto the Swiss franc, which glistens a bit like gold while offering a very modest return.
Sterling has fallen against the Swissie by 47% between mid-2007 and this month - down from 2.45 francs per pound to only 1.31.
The dollar has fallen 35% in the same four years of downturn, to hit an all-time low this week of 80 cents to the franc. This year alone, the dollar has lost 14% of its value against the franc.
The euro has dropped over that four-year period of the downturn from 1.66 Swiss francs to 1.18, a drop of 29%. This year alone, the euro has lost 14% of its value against the Swissie.
The eurozone is the key trading partner for Switzerland. Germany's strong export performance, relative to the rest of the eurozone, is helping strengthen the parts of the Swiss economy with which it's intertwined.
The Swiss look safe because the Bern government has controlled debt at just above 50% of GDP, and this year it's on track to run only a small budget deficit.
Dragon-sized appetite
So a sign of strength and national pride amid the international turmoil? It's not that welcome in Switzerland, which has had to take measures on previous occasions to intervene in the market and keep the value of its currency from overheating.
It means Swiss exporters, including its tourism industry, struggle to compete, and there's a strong incentive for the Swiss to cross the border to go shopping. In the eurozone, the same items cost far less.
It takes a bit more effort to reach neighbouring countries from Australia, but that's one of the other liquid currency that's been boosted by the flight to safety.
With the Outback's raw materials base feeding the dragon-sized growth appetite in Asia, the Aussie dollar is seen as a safe haven proxy for illiquid China.
The Canadian dollar, or loonie, is similarly a way of investing in the US dollar zone without the same exposure to lunacy in Washington DC.