Exam disappointment - what next?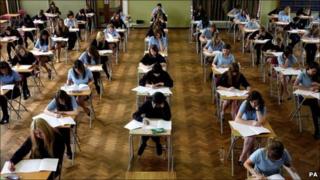 If you are disappointed with your exam results, don't let too much time elapse before you or a parent pick up the phone to seek help.
Skills Development Scotland, a body funded by the government, runs a free advice helpline which can talk you through potential options.
You can ring 0808 100 8000 from 08:00-20:00 on 4-5 August, from 09:00-17:00 on 6-26 August, and from 09:00-12:00 on 27 August.
Even if you haven't quite got the grades needed for a conditional offer, occasionally, the college or university in question will still take you.
The clearing process can help people without a university or college place to find suitable vacancies.
Education body Ucas, which provides advice on clearing, says there is a chance of finding a place for those with reasonable exam results who are prepared to be flexible.
However, competition for places at virtually every institution is even fiercer than in previous years.
Good reputation
Many reported in the last week of July they had few or no places left.
Some places may become free if applicants sitting on conditional offers are turned away, or if their grades fell short of what was required.
You may consider a course that wasn't previously on your radar, but find out as much as possible before trying to snap it up.
If the course or the institution or the town isn't really you, there is a chance you will drop out after a few months.
Try, if possible, to find out if the course has a good reputation.
Can you ring up recruitment agencies or organisations likely to take former students on this course and ask them for their thoughts on it?
Ask around too to find out if the course offers at least an average chance of work at the end of it.
Skills Development Scotland advisors may suggest the increasingly common strategy of staying on at school for a further year in the hope of better grades.
Gap year
Bear in mind institutions are likely to ask for an even better set of results if you are acquiring them over two years.
Some reconsider whether college or university is really what they want to do.
Some go all out for a job or apprenticeship, some explore setting up a small business such as dog walking, car washing or designing their own app for a smart phone.
And some decide on a gap year with work experience. Countries such as Australia, Canada and New Zealand, where the recession has been less severe, offer better work prospects for those who feel ready and willing to travel that far afield.
The Scottish Qualifications Authority also aims to provide answers to the most frequently asked questions regarding results, including advice on appeals.