New ambulance meal break proposal expected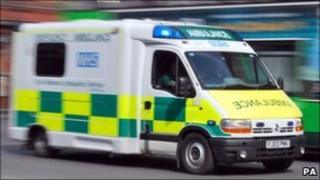 The Scottish Ambulance Service is expected to table a new proposal next week to resolve a dispute with its crews over breaks.
Unions have rejected an offer of a one-off payment and overtime if staff are called out during a meal period.
The row is centred on unpaid rest breaks taken by crews.
It follows a case in October last year where a woman died in Tomintoul despite there being a local ambulance driver less than half a mile away.
He was on a break and paramedics had to be dispatched 15 miles away in Grantown to the case of Mandy Mathieson, 33.
She died from a heart attack in the remote Moray village of Tomintoul in October 2010.
A few months later, a three-year-old boy died near Crieff in Perthshire while the local ambulance crew was on a rest break. The crew was not told there was an emergency nearby.
Employers had been offered an annual payment of £250 and 45 minutes compensatory overtime to provide cover during mealtimes, but union members from the GMB union, Unite and Unison turned it down.
Representatives from the three unions, the Scottish Ambulances Service and the government met in Edinburgh on Friday and there were indications a new solution would be out to the unions next week.
GMB regional secretary Harry Donaldson said: "There doesn't seem to have been a great deal to come out of the meeting. But the Scottish Ambulance Service suggested they were planning to put forward a written response early next week, containing fresh proposals on the subject."
However, an ambulance service spokesman said the meeting was "very constructive".
He said: "The Scottish Ambulance Service remains committed to working with staff to achieve a resolution to the rest-break issue."
Health Secretary Nicola Sturgeon said she was "encouraged" by the meeting.
She said: "I have been clear that current arrangements for handling rest breaks in the ambulance service cannot remain in place. I am encouraged by the positive meeting held today and pleased to see that dialogue is ongoing. All parties are aware of the need to find a satisfactory resolution as quickly as possible."