Scottish exam results sent early in text blunder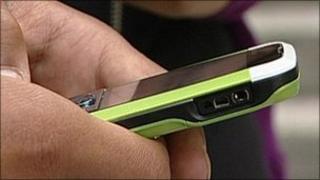 Almost 30,000 pupils in Scotland have received their exam results a day early by mistake.
The blunder meant youngsters who signed up to get results by text message got an early look at their grades, the Scottish Qualifications Authority said.
Opposition politicians branded it a "serious mistake", but the exam body insisted the problem had not put anyone at a disadvantage.
Higher and Standard Grade results for 160,000 students come out on Thursday.
Almost 36,000 pupils signed up to get their exam results electronically, by text or email. Those who opted for text message only notification have been receiving results.
A group of 16 pupils from schools in Renfrewshire and Inverclyde, who are on holiday abroad, were among the thousands who starting getting texts on Wednesday afternoon.
Helpline open
The SQA said the results sent out by text message - which should have been distributed between 08:00 and 09:00 on Thursday - were correct, while issuing an apology.
SQA chief executive Janet Brown, said: "This afternoon, the 29,863 candidates who had opted to receive their SQA examination results via text message were sent these results early.
"The text results should have been issued to candidates at 09:00 tomorrow."
She added: "SQA is conducting an urgent inquiry with the external contractor, AQL, which issues the texts on behalf of SQA, in order to understand how this has happened.
"This is always a stressful time for candidates, their parents and their families and SQA apologises for any additional stress this may have caused."
Because of the early release, the Scottish government has activated the helpline run by its quango Skills Development Scotland. The number is 0808 100 8000.
Similarly, the SQA also opened its advice line - 0845 278 8080 - early, on Wednesday afternoon. Its email address is results@sqa.org.uk.
Meanwhile, the government and SQA moved to dismiss concerns that pupils who got their results on Wednesday could be at an advantage in terms of the getting into the clearing process early, saying the facility did not open until 09:00 on Thursday, and that universities had been told not to discuss exam results with any students until tomorrow.
Reacting to the mistake, Scottish Liberal Democrat leader Willie Rennie, said: "This is extremely unprofessional and will create a great deal of anxiety and stress for pupils already anxious and stressed.
"The person responsible should re-sit their IT exams."
Explanation demanded
Scottish Labour education spokesman Ken Macintosh said the blunder was a serious mistake, adding: "There should be a clear and level playing field, especially because the online clearing system is live and searchable from midnight.
"This should not have happened and pupils and parents need to know what has gone wrong quickly."
Education Secretary Mike Russell said swift action was taken to ensure all pupils get the same level of support, adding: "I have also asked SQA for an urgent explanation of how the error occurred."
A spokesman for higher education application body Ucas said clearing lists would be online and searchable from just after midnight, but applicants will only be able log in to make a clearing choice from mid-morning onwards.
Universities will not discuss results directly with candidates until that process has opened.
Shereen Nanjiani will be presenting BBC Radio Scotland's Call Kaye programme on Thursday morning and is looking for your reaction to the exam results.
Did you, or your children, get your results early? What is your reaction to another SQA blunder? And what about the results themselves - is a university place guaranteed, or a search through clearing on the cards?
Or what if results were not quite as good as you hoped for, is it back to the drawing board? Call Kaye will be on BBC Radio Scotland from 08:50-10:30. You can contact the programme on 0500 92 95 00 - lines open from 08:30 on Thursday - text 80295, or email callkaye@bbc.co.uk
We also asked affected students where they were when they found out their results and how they felt about the blunder. Here is a selection of their comments:
I think it was a welcome mistake for everyone, but it just proves that the SQA really have no idea what they are doing.
Felix, Edinburgh
My daughter is one of the 8,000 who signed up for text results and hasn't got them, therefore she is feeling fairly annoyed that if the SQA have confirmed the results are correct, they didn't act equitably and allow all the results to go out to the pupils who signed up. They were supposed to get the results today originally, then the SQA told them it would be tomorrow - the same day as the postal version, so what is the point! Perhaps the SQA could consider the feelings of those pupils who now know their friends results, but not their own, and send the rest of the results out by text to those who signed up!
Justine Westwood, Glasgow
The SQA say that "No candidate will have been advantaged or disadvantaged as a result of the early delivery". What they fail to realise in saying this is that some students will be able to go through the first-come-first-served 'clearing' system for university places.
Surely this gives an unfair advantage to these students and they should ensure that all electronic results are distributed today! I've already completed university, but if I were in a position which would disadvantage me, I'd be absolutely furious.
John Thow, Falkirk
I was in a little cafe eating lunch whilst on holiday in Portugal. My phone bleeped and I saw there was a text from the SQA! I was not expecting it today, I got my English results out, which I'm relatively happy with. I certainly don't think it was a bad thing, less pressure!
Daniel Devine, Linlithgow
I was with my brother in the car going to pick up something for my dad and he was asking when my results were coming in, and a few minutes later I received a text message! As soon as I saw SQA I freaked out, I couldn't believe it because I was expecting them to come through on the thursday! I didn't even read the message and I phoned my girlfriend straight away saying, Sophie! i think the exam results are in! She was like, "what! are you being serious, i don't have mine, i don't have mine, I want mine!!" (she received hers after the call ended). I looked back at the message and found that I got my grades for uni, so it was a pleasant surprise! I couldn't stop checking back though - I couldn't believe it, I was thinking it was some sort of joke from someone! Anyway, thanks SQA for the early surprise, now i can relax!!
Andrew Arthur, Motherwell
I thought the exam results were meant to come out a day early. That's what it says on the SQA a website
Hannah Fleming
I'm so glad to have received my results early, although it came as a big surprise! Now I can relax tonight and not be anxious about it.
Gavin McCaig
I was surprised when I got them however I am glad I got them early and unexpected as I wasnt sitting worrying about them as much as I would have been sitting waiting tomorrow morning between 8 and 9 am :)
Ryan Kean, Saltcoats
I'm happy because I got the results I wanted but it would have taken the edge off my holiday a day early if I hadn't.
Scott Henderson, Myrtle Beach, South Carolina, US
I am one of the pupils who has not received my results while many of my friends have. It is yet another indication of general incompetence - not what we should expect from an exam board. My suggestion would be to now release ALL the results so that at least we receive them on the same day.
Christian Richards, Cumbernauld
I didnt get my results by text, by i think it's unfair that this has happened because it means those who are applying to uni will be more prepared if they are applying for a clearing this should not have happened and it was a silly mistake. Every one should get their results the same day and sqa should be more prepared and responsible for this. The clearing date should be changed in my opinion so everyone is fairly applying for a place at university!!!!!
Jasmine, Glasgow
I was in bed asleep when I was awoken by a text addressed from the SQA. To my surprise, it was my results.
At first, I thought it may have been a prank due to the fact that we weren't supposed to be getting the texts until tomorrow morning. Nevertheless, the SQA confirmed that the results were genuine and as a result all those who didn't sign up for the MySQA service are quite annoyed.
Yet another failing by our exam board. Great.
Tom Sadler, Buckie
I think it is a joke. It is incredibly unfair to everyone who did not sign up for the text option. It has put even more pressure and nerves on myself and the thousands of other students waiting for results- its not as if result time is not already nerve wrecking.... They may as well send out the e-mails just complete this disaster. What was wrong with just the good old pen to paper letter why let technology go complicate things. If it is not broke why fix it?
Charlotte Lawton, Aberdeen
I got my results today by text. It is slightly annoying because it was so unexpected and at first I thought somebody had text me pretending to be the SQA as a joke. However, I am glad as I got the results I needed to get into Uni! Yay :)
Rachel, Glasgow
I applied for the text thinking I would get my results a day before, so I was ecstatic to read the text informing me of my eight 1's. Thanks SQA!
David, Glasgow
I'm glad they came out early. It was a great surprise to be in the supermarket and receive my results. Saves an anxious wait until tomorrow, though I feel sorry for those who haven't yet got them.
Paul
I was tidying my room when I got my results, I was so shocked that I couldnt open it. Only three people from my school have got their results early.
Andrea Smyth, Glasgow
The text message that the SQA sent me with my results actually wakened me up. What a start to the day it was finding out that I had exceeded the results I needed to achieve for my conditional offer to study Law at Dundee University. Personally, I feel that results should be sent to students as early as possible!
Stuart McRobbie, Dundee
If I hadn't been one of the candidates who got their results early then I would be furious, but since I did get my results early, I thought they were a very nice surprise; although it does mean that tomorrow will be a bit of an anti-climax!
Rachel
Im one of the people who got their results early and i think if some of the people got them early they may as well just send out the rest to stop all of the hassle It happened last year too you would of thought SQA had learnt from their mistakes !
Kerry, Falkirk
I got my results this morning, through text, and wondered if it was wrong as the sqa website says it shouldn't of been out till tomorrow, but at least they're correct (:
Emily Murphy, Glasgow
I was asleep in my bed when I heard my phone go off so I woke up to my exam to results. It was a nice surprise.
Caitlin, Stirling
I was at home enjoying my day. And then got this bombshell dropped on me. Although I passed all my exams, I didn't get the grades I need for university. And there is no one available to talk to for advice, as nothing is set up until tomorrow.
Niall McGeachy, Stirling
I was very shocked that something like this would happen. Although it is a pleasant surprise for people like me, i fear it is not the same for other.
Harold Jonezmino, Lanarkshire
I was at home on Facebook, someone posted a status saying 'OMG just got my exam results!!!' and I thought it was a joke! Then after a few minutes more people started getting results through and we realised that something had gone wrong and we were really getting our results early. In a way it was a good thing because I didn't have a chance to get nervous about them arriving because it was completely unexpected!
Sarah, Livingston
I'm delighted with getting my results early, just means less nervous waiting! There is nothing wrong with this as the results are all correct. No need to make a fuss. The text service was there for everyone to sign out for, if you didn't bother to sign up its your fault you didn't get your results early.
Thomas Christophersen, Banchory
This is really bad mistake by an organisation like the sqa, now they know how it feels to make a mistake!
Tom, Glasgow
Well i was just on the phone to my dad saying that i wasn't expecting the results until tomorrow morning and then i got a text from the SQA with them. I was pleased to get them but i do think it is unfair for the other people who applied to the text/email service who haven't received them.
Andrew Malone, Largs
I'd already accepted my unconditional for film and photography at Napier, so wasn't that fussed about results this year round.
Was browsing on facebook and saw lots of people updating their statuses about getting their exam results early. I'd signed up for the text service last year, albeit on an old phone. So I rummaged around my house till I found it, put it onto charge. Came back a little while later to find a text from the SQA, and was pleasantly surprised. After a relaxing lap of honour in 6th year I found I'd got an A for advanced higher modern studies, B for Business management, and a C for computing. Off to celebrate now!
Graham Love, Aberdeen
Whoops! It's a monumental blunder but a nice one at that for those who got their results early. Hopefully no-one's too upset, but it is just a day's difference, and the results are mercifully correct.
Campbell Wallis, Glasgow
I thought it was a nice surprise. Although, at first I thought it was a prank.
Fergus Smith, Canonbie
I was sitting drinking tea in Selby Abbey with my family when I got a shock by getting a text with the results. I am so happy I got them but feel bad for those who didn't get them early. It means I can celebrate a day early!
Oli Crowe, East Linton
I was reading in my garden when my phone bleeped. It was a big shock to receive my results when I wasn't prepared, but I could not be happier with my results! It means I can relax now and not panic.
Shannon McNee, Glasgow
When my friend rang me this morning screaming that her results had arrived by text a day early, naturally I ran to my phone to see how I had done. However when I saw that no results had arrived I was incredibly upset, I waited several hours and still no results. I think that the SQA should realise that most people who signed up for the texts will now know what they got, and should therefore send out texts to the remaining people who did not receive them.
Elizabeth, Perthshire
I was also part of the thousands who received their results by text. I don't think it really makes much of a difference no matter which day you get them. I was quite surprised that I got them today but I'm glad I did, especially to the relieve the pressure!
Deanna Green, Perth
I had just told my dad 5 minutes before that i had already received them and that i had failed them all, just then the text came in and i didnt believe it, i thought it was someone trying to play a prank on me, but once it sunk in i was pretty happy.
Colette Saunders