Patient transport improvements could save money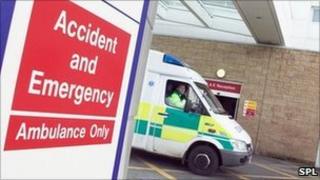 Scotland could save millions by improving transport services in health and social care, Scotland's financial watchdog has said.
The Audit Scotland report said the estimated £93m annual budget could be reduced if services were shared and users had better information.
Greater co-ordination could also improve the service, the report said.
Transport costs for patients and social care users are met by NHS boards, councils and the ambulance service.
Audit Scotland's Transport for Health and Social Care report found poor information about transport services and uncoordinated arrangements resulted in unnecessary journeys, missed or late appointments, people staying in hospital longer than needed, and reliance on last-minute options such as taxis.
It also said the £93m cost of transport in health and social care was likely to be a "significant underestimate".
The report recommended co-ordinating local services, making better use of joint scheduling, sharing more resources between partners, and providing better information to the public.
Robert Black, Auditor General for Scotland, said: "Well-organised transport can make a positive difference to people needing help with getting to and from hospital appointments and services like day centres.
"Delays and confusion about arrangements can cause distress and anxiety and lead to people not getting the most out of the care services that are being provided.
"All partners involved in transport for health and social care need to work together to improve the way these services operate.
"This is an area where there is scope to make significant improvements and save money without affecting quality."