Artist David Mach burns his Devil's head sculpture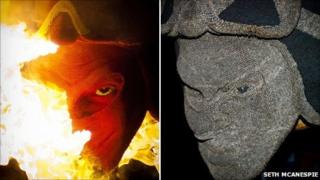 Artist David Mach has set alight his matchstick sculpture of the devil's head to mark the start of the Edinburgh Art Festival.
The Scottish artist is staging his largest ever solo show at the City Art Centre in Edinburgh.
The Precious Light exhibition presents collages and sculptures translating the King James Bible into modern life.
Mach said burning the sculpture, which took him three months to make, was the "final act" of its creation.
He said: "It is not a destructive act at all.
"The head is very bright red, with yellow and a bit of black.
"But when we've burned it, the thing will age about 100 years before your eyes in about 30 seconds.
"It will lose the colour but we will get various shades of grey and black and the sculpture itself will be intact."
Mach's exhibition coincides with the 400th anniversary of the King James Bible, which remains the most-influential translation in the English language.
The artist, who said he had no religious beliefs, has filled five floors of the gallery with dozens of works which bring the Bible stories to contemporary settings and materials.
The Fife-born artist was also planning to burn a sculpture he has made of the head of Jesus.
However, after his plans caused controversy and will now perform the burning behind closed doors.
Edinburgh Art Festival director Sorcha Carey said the burning "symbolised" what art could do.
"It can be a bright fire then a slow burning ember that can leave things with you.
"For us it seemed a suitable focus for an art festival that is dedicated to bringing the best of visual art to Edinburgh."
The Edinburgh Art Festival, now in its 8th year, runs until 4 September.