RBS wary of Greeks bearing bonds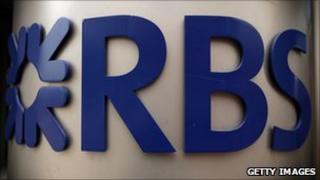 After writing off £733m of Greek debt, the Royal Bank of Scotland has been conservative and pessimistic at the same time, showing little confidence in the "voluntary" deal struck between banks and eurozone political leaders.
That deal assumed a 21% loss on privately-held debt, but RBS assumes 50%.
Indeed, it assumed that at the end of June, since when a eurozone deal which was struck is now being treated with disdain by the markets for its lack of credibility.
How much more exposed could RBS be to the eurozone countries most in trouble?
Delve deep into its voluminous half-year figures, and you'll find some big numbers. It holds more than £7bn in Spanish government bonds, and another £8.5bn in private sector exposure in Spain, most of that to large corporates.
It's rather less exposed in Italy, with £3.5bn of private lending and £955m in government debt.
In total, its exposure to national and local government debt and derivatives across Ireland, Spain, Italy, Greece and Portugal is £3.3bn.
PIIGS in space
But the overall exposure, including private lending in those five economies, is a daunting £76bn.
Of that, nearly £43.5bn is exposure to lending in Ireland, where Ulster Bank has left a big exposure. There is nearly £22bn of exposure to personal lending in Ireland, most of that in residential mortgages, while RBS has relatively low exposure to Dublin government debt.
Its impairment charge on Ulster Bank's operations was £1.25bn, hardly down at all on the high figures revealed in the first quarter, as total impairments in the second quarter rose significantly on those in the first quarter.
It shows RBS is a lot more exposed to those PIIGS - Portugal, Ireland, Italy, Greece and Spain - than Lloyds Banking Group. In its half-year figures, it reported £189m exposure to central and local government debt in those troubled eurozone economies, though it also threw Belgium into the mix.
That's one worth watching. Belgium is carrying a high level of debt. At 97% of gross domestic product, it's behind only Greece and Italy within the eurozone.
And it has failed for more than a year to form a government because of the apparently intractable differences between the Flemish and the Walloons.
If the markets begin to bear down on Belgian debt - and that's already signalled by a bond spread more than two percentage points above the German benchmark - it could be brutal to a government where there is no government.
Negotiations on forming a government have taken a break while the king has gone on holiday, drawing criticism from Brussels' central bank governor.
Loan arranger
One other factor worth some digging in the RBS figures is the lending to business. The Project Merlin promise to boost lending in a bid to help the UK economy has seen banks making positive noises about their achievements since the deal was struck in February.
RBS says it is well ahead of its market share, but it isn't saying that it's actually hitting those targets. Instead, it has the look of a bank getting its excuses in early.
The problem seems to be mostly with small and medium-sized business lending, where the banks complain that it's hard to get customers interested in lending.
Instead, there are high levels of debt repayment. Drawn balances fell £1.2bn between the first and second quarters of this year, down to £53bn. Only in manufacturing and public administration did the SME figures rise.
RBS has £40bn in unused overdrafts with business customers. SMEs are using less than half of arranged facilities.
The Edinburgh bank cites survey evidence that 81% of SMEs had no plans to borrow in the following three months (perhaps because they know what the banks will be like if they try).
Only 2% said a lack of external finance was the main obstacle to running their business over that same time horizon.
Next week, there will be less spin of the figures, and we'll get a better idea of whether the Bank of England thinks the banks are achieving those lending targets.