Rallies held across Scotland to mark Hiroshima bombing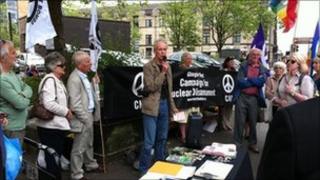 Vigils and rallies to commemorate the dropping of the first atomic bomb are being held across Scotland.
About 140,000 people were killed in the US attack on the Japanese city of Hiroshima 66 years ago.
People gathered in Edinburgh's Princes Street Gardens and in Glasgow's west end to hear speeches denouncing nuclear weapons.
The Scottish Campaign for Nuclear Disarmament also hosted events in Dundee, Ayr and Paisley.
In Aberdeen 200 floating peace lanterns were released on the River Dee and a candle lit vigil was held at the Faslane Peace Camp near Helensburgh.
Many of those taking part voiced their concern about nuclear power as well as nuclear weapons.
Alan MacKinnon, the chairman of Scottish CND, said: "The meltdown of at least three nuclear reactors has highlighted the enormous dangers and the unstable nature of this technology.
"It has certainly turned public opinion fairly massively against nuclear power and many countries are now reconsidering."